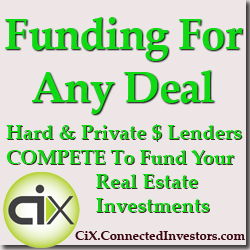 LOCAL BANK INVENTORY +
Millions in Funding

In this online post you get to choose if you want your funding or deal finding problem SOLVED!

Do you want a funding partner to provide capital for your fix & flips or buy & hold real estate investments RIGHT NOW?

If you can put at least 10% toward the purchase price, this new funding portal allows you to instantly receive multiple offers from several local private & hard money lenders in minutes.

Get Funded » Click Here To Apply Now.
Q) I have bad credit. Can I get funded?
A) YES! These lenders make decisions based off the deal, not your credit.
Q) Who lends me the money?
A) Local private money lenders and hard money lenders compete to give you the best rate and term. Fill out the simple form and get offers from lenders ready, willing and able to lend.
Now that your funding problem is solved…
Do you want access to local off-market bank inventory to wholesale or fix & flip? We have that problem solved too.
We've put together a list of 261 banks highly motivated to sell their inventory. This list has direct links to their properties and the contact info of their asset manager!
Click above, enter your email and I will send you the list!


Enjoy,
Realty411 & Connected Investors