Don't Miss this Informative, Educational & Exciting Real Estate Event en Español
>> Celebrate Our NEW Issues in Los Angeles in Spanish!
Este Conferencia es en Español –  Meet New Friends – Brush Up on Your Spanish & Have Fun! English-Speakers Welcome – This is a Bilingual Event!
~~~~~~~~~~~~~~~~~~~~~~~~~~~~~~~~
Date: Saturday, June 3rd, 2017
Venue: The Westin LAX Hotel
5400 West Century Blvd., Los Angeles, CA 90045
HOSTED BY THE OUTBACK AND REALTY411 – JOIN US AND LEARN FROM TOP INVESTORS IN CALIFORNIA PLUS OUT OF STATE.
* Mingle with Companies * Meet Local Leaders & Out of Area Investors
NON-Stop Tips for Real Estate Success ~ Hosting Our Events Since 2008
We Want & Can Help YOU Succeed As We Have.  Bring Lots of Cards.
Mingle with Local Leaders & Industry Professionals from Around the Nation!
Hosted by Realty411 – Publisher of National Real Estate Magazines
---
Come celebrate the only national real estate investment publication, expo and network founded and based in California!
CONTACT US TO BE A SPONSOR: 805.693.1497
or email us directly at: realty411magazine@hotmail.com
---
All Guests Receive Our California-based Investment Magazines
Meet Local Leaders & Industry Giants – Hosted by Active Investors
Influential Real Estate People & Business Owners Attending!
Find Potential Partners, New Friends, Build Your Circle of Influence.
Remember Your Net Worth = Your Network
---
Celebrate Real Estate in Your Market! Our discussions cover a wide range of topics:Commercial & Residential Real Estate * Private Lending * Raising Capital * Networking Tips to Grow Your Influence * Strategies to Increase ROI * Gain Perspectives on TOP Local & National HOT Markets * Fix & Flips * Buy and Hold + Wholesaling, Notes & More…
We have investors joining us from many states * YOUR NET WORTH = YOUR NETWORK
We are hosting this event to help increase your contacts and to further your potential in this industry, so don't miss out!
~~~~~~~~~~~~~~~~~~~~~~~~~~~~~~~~~~~~~~~~~~~~~~~~~
Hacer Bienes raíces SIMPLE & Asequible en un mercado CALIENTE y RÁPIDO
~~~~~~~~~~~~~~~~~~~~~~~~~~~~~~~~~~~~~~~~~~~~~~~~~
FOR INFORMATION PLEASE CONTACT US:
CALL: 805.693.1497 | 24 Voice Mail: 310.499.9545
Realty411's main website at: http://realty411guide.com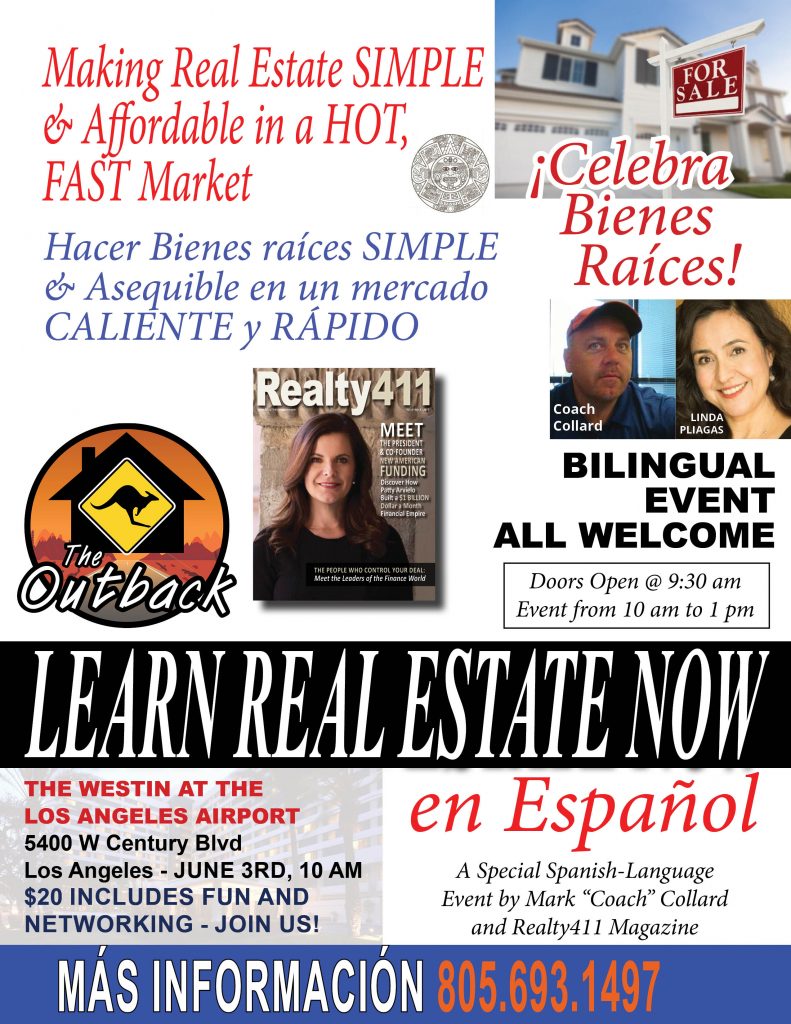 Be sure to get your hands on our new release of Realty411 Magazine, Private Money411 and CashFlow Express either by mail, or by picking up a free copy at one of our events!
ARE YOU A VIP REALTY411 MEMBER YET? IT'S FREE CLICK HERE     
JOINING US FROM LAS VEGAS, MARK "COACH" COLLARD
Mark has two real estate groups, one in Las Vegas and one in San Diego. Join us to learn from one of the most innovative people int he industry.
Mark "Coach" Collard – will cover some of the follow as seen below
Wholesaling
Knowing When to say When
Outback Extravaganza
Changes in Loan Products
The Fundamentals
ABOUT Mark "Coach" Collard
Investor in man and land, in that order! Love to teach and coach!
Welcome to the Outback! For real estate investors, the Outback is a "solutions at all cost" mentality that is fed by proper mindset and real estate fundamentals. It allows for creative solutions to acquire real estate outside of traditional "inside the box" mentality that has been brainwashed into us by the banks and society as a whole. With the proper mindset and fundamentals, over time one can acquire enough real estate with little to no of their own money to build a large portfolio that can provide one with financial independence.
Every meeting we host both in Las Vegas and in San Diego will cover mindset & fundamental technical lessons, along with the opportunity to networks with other local investors. Come with an open mind to learn more about what's possible in the Outback.
EXCLUSIVE THOUGHT-PROVOKING EDUCATION! PLUS AMAZING NETWORKING.
This is your chance to gain insight into the local real estate market as well as gain perspective of some of the top areas around the country to invest in. All guests receive TOP Investment publications.
PLUS, NETWORK WITH THE PUBLISHER AND COMPANY OWNER – She wants to know about what we can do to serve you better this coming year.
Linda Pliagas, CEO of REALTY411 – Owner of the Longest-Running Media Company Publishing Real Estate Resources for Investors around the World.
Realty411 was founded in 2007 by Linda Pliagas, who is the Publisher/CEO. Linda has personally invested in rental properties in five states — all by the age of 38.
Linda has purchased single family homes, multifamily units, vacation rentals, probates, REOs and short sales. Linda Pliagas has worked simultaneously in media and real estate. She began her media career at age 18 as a reporter for her high school newspaper.
She holds a bachelor's degree in print journalism from California State University, Long Beach. She was a recipient of the Bobit Magazine Scholarship for her accomplishment in publishing her first national magazine while still at CSULB.
She also studied real estate, accounting and general studies at Santa Monica College. In addition to publishing two magazines and a local newspaper in Los Angeles, Linda has also freelanced for numerous national magazines, local newspapers and global websites. Thanks to her real estate investments, Linda was able to pay off her home in West Los Angeles by age of 39.
Linda, who is Mexican American, speaks fluent Spanish. It is her mission to advance real estate education and inspire others to invest in real estate.
~~~~~~~~~~~~~~~~~~~~~~~~~~~~~~~~~~~~~~~~~~~~~~~~~~~~~~~~~~~~~~~~~~
In 2007, we began REALTY411 magazine (http://realty411magazine.com or http://realty411guide.com), now we also publish our popular monthly REI WEALTH magazine (http://reiwealthmag.com), it was founded nearly four years ago in San Diego, California.
Celebrate Ten Years of Publishing with the Only Real Estate Investor's magazine owned by active California investors whose mission is to help others learn about the benefits of owning real estate as a means of creating long-term wealth. We have been hosting real estate expos, mixers and events since 2006, prior to starting our publication.
REALTY411 has reached more magazine readers in person nationwide since the start of their publication than any other publication in the real estate investment industry. To see our busy schedule and locate other events around the nation, visit our REALTY411 EXPO site (http://realty411expo.com)
~~~~~~~~~~~~~~~~~~~~~~~~~~~~~~~~~~~~~~~~~~~~~~~~~~~~~~~~~~~~~~~~~~~
Save
Save
Save