We Had a Wonderful Time in Dana Point

Our event in Orange County was spectacular! Be sure to check out photographs from our event below, as well as our expo agenda for the day.

Don't forget to sign up for our mailing list to learn about our next event in Dana Point – WE WILL BE BACK SOON!
To join our email list and receive updates, CLICK HERE

California Creative Real Estate Educators and Local Professionals Gathered in Irvine with National Real Estate Leaders to Celebrate REALTY411.
REALTY411, the longest-running real estate investor media and expo company owned by the same California owner/agent, is celebrating a brand new issue and a 10-year anniversary.
A new year and new administration is upon us and savvy investors want to forecast what's in store for them in 2017. On SATURDAY, AUG. 19TH, creative real estate leaders will unite in Dana Point, California to discuss such trends, ideas and strategies. This insight and knowledge may help guests gain an edge in their investment strategy.
Hosting this community FREE Expo and Real Estate Investor Conference is REALTY411, (http://realty411expo.com) the longest-running media and marketing company in the real estate investor space. Since 2007, REALTY411 has been positively impacting the REI industry by sharing important real estate knowledge through their publications, national expos, podcasts, and webinars.
Additionally, this all day expo, which is being advertised to local investors and real estate professionals in the local media, is also attracting national investors. We host events enjoyed by guests and sponsors from around the country, including: Florida, Arizona, Texas, Arkansas, Nevada, Georgia and more. Expo guests will enjoy multiple breakout sessions so they can choose which topic they wish to learn about.
OUR SPEAKERS INCLUDED A DYNAMIC TEAM, such as:
* Kaaren Hall, founder and owner of one of the fastest-growing Self-Directed IRA companies in the nation and hostess of the monthly OC REIA group
* Mark McKeller, HomeVestors, We Buy Ugly Houses – Do you want to meet the most prolific buyer of Single Family Homes in the United States? Then join us to learn from the nation's top home buyer, HomeVestors. Discover how they do it and where they are buying!
* PLUS, Optimize your credit score to 800+, learn how with Merrill Chandler, founder of Credit Sense
* Learn where the BEST Cashflow markets are in California with Sensei Gilliland from Black Belt Investors
* Marco Santarelli with Norada Real Estate Investments shares valuable knowledge about where the right place is to invest outside of California
* Marcus Reynolds with 2020 REI GROUP joins us direct from Dallas, Texas, don't miss this valuable insight from one of the fastest-growing companies in the industry today
* Why is a Land Trust so important for real estate investors? Learn from 'Mr. Land Trust', Randy Hughes
* What is the best-kept secret in estate, discover it today
* Don't miss the opportunity to learn from one of the most influential leaders in real estate: KENT CLOTHIER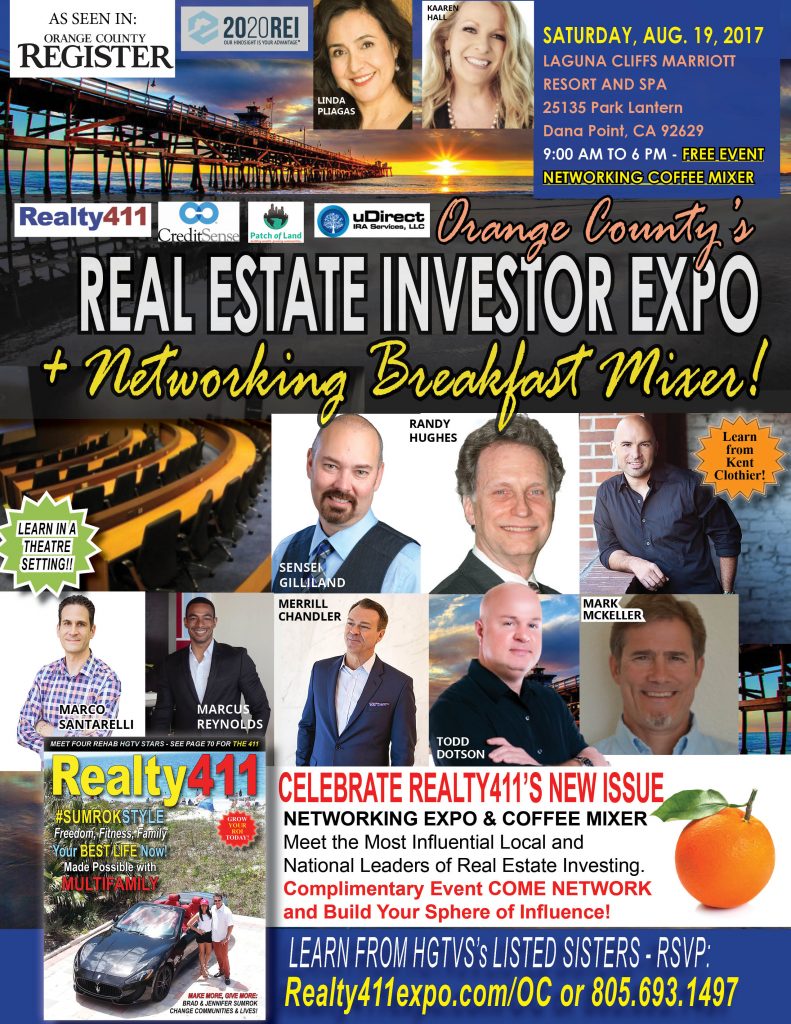 PRODUCED BY THE LONGEST-RUNNING REAL ESTATE INVESTOR'S MAGAZINE IN THE NATION, OWNED BY THE SAME PUBLISHER. SINCE 2007 REALTY411 HAS PUBLISHED THE MOST POPULAR RESOURCES FOR REAL ESTATE INVESTORS.
REALTY411 (http://realty411Magazine.com) is a free print and online resource guide developed to assist investors in the acquisition, management and growth of their real estate portfolios. Realty411 is an advocate for education, and some of the greatest Masters of Creative Real Estate have been featured in the publication.
Realty411 also publishes a monthly digital publication, REI WEALTH. (http://www.reiWealthmag.com)
Don't Miss this Informative, Educational & Exciting Expo in ORANGE COUNTY California hosted by the ONLY Real Estate Investor magazine founded and published by California investors.
Save
Save
Save
Save
Save
Save
Save
Save
Save
Save
Save
Save
Save
Save
Save