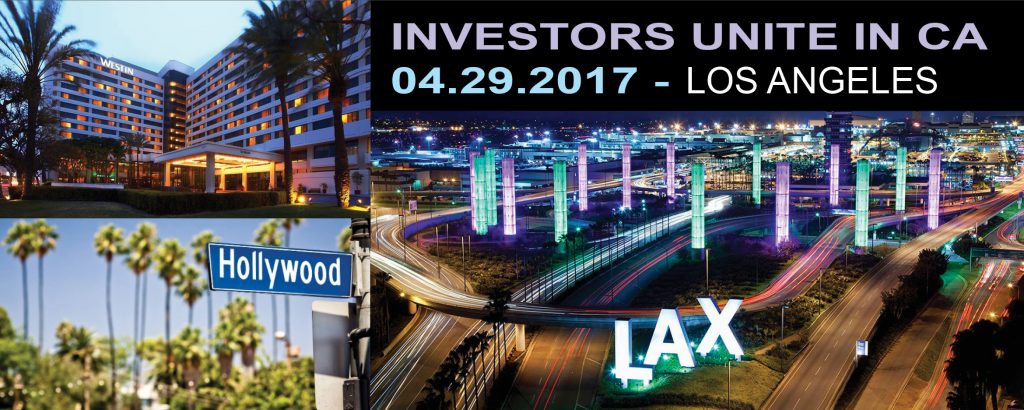 California Creative Real Estate Educators and Local Professionals Gather in Los Angeles (The Westin/LAX) with National Real Estate Leaders to Celebrate REALTY411's New Publication
REALTY411, the longest-running real estate investor media and expo company owned by the same California owner/agent, is celebrating a brand new issue and a 10-year anniversary.
A new year and new administration is upon us and savvy investors want to forecast what's in store for them in 2017. On SATURDAY, APRIL 29TH, creative real estate leaders will unite in Los Angeles, California to discuss such trends, ideas and strategies. This insight and knowledge may help guests gain an edge for a favorable and prosperous new year.
The expo will take place in the luxurious Westin Hotel by LAX, located at: 5400 W Century Blvd, Los Angeles, CA 90045 – The event will take on the second floor and will feature back-to-back education in multiple rooms so guests can network and mingle all day long. Early-bird guests will enjoy a complimentary coffee networking mixer, a collection of pastries will be served. Registration begins at 8:30 am, the event begins promptly at 9 am.
Hosting this community and family-friendly FREE expo is REALTY411, (http://realty411expo.com) the longest-running media and marketing company in the real estate investor space. Since 2007, REALTY411 has been positively impacting the REI industry by sharing important real estate knowledge through their publications, national expos, podcasts, and webinars.
Additionally, this all day expo, which is being advertised in the local media, as well as to national investors across the United States. Our events attract guests and company sponsors from around the country, including: Florida, Arizona, Texas, Arkansas, Nevada, Georgia and more. Expo guests will enjoy multiple breakout sessions so they can choose which topic they wish to learn about. The ballroom has been reserved for this fantastic networking expo and mixer, and complimentary coffee and pastries will be served to early-bird guests.
REALTY411 (http://realty411Magazine.com) is celebrating its brand new publication, as well as an anniversary of three years in producing their digital issue, REI WEALTH (http://reiwealthmag.com), a monthly interactive publication. As one of the most prolific publishers in the real estate investment industry, REALTY411 has dozens of events on schedule for 2017, as part of their national tour to celebrate a decade in business.
To reserve your complimentary ticket to this wonderful event to celebrate REALTY411, please call: 805.693.1497 – Sponsorship & speaking opportunities are available, let us exponentially grow your business!
EVENT VENUE:
THE WESTIN Los Angeles Airport
5400 W Century Blvd., Los Angeles, CA 90045
California Creative Real Estate Educators and Local Professionals Gather in LOS ANGELES with National Real Estate Leaders to Celebrate REALTY411's New Publication
WHAT CAN YOU EXPECT:
NETWORK WITH EXHIBITORS, COMPANIES, REAL ESTATE GROUPS, CLUBS, AND SERVICE PROFESSIONALS – THIS IS THE PLACE TO BE!

* Mingle with Companies * Meet Local Leaders & Out of Area Investors
NON-Stop Tips for Real Estate Success ~ Hosting Our Events Since 2008
We Want & Can Help YOU Succeed As We Have. Bring Lots of Cards.
Mingle with Local Leaders & Industry Professionals from Around the Nation!
All Guests Receive Our California-based Investments Magazines
Meet Local Leaders & Industry Giants – Hosted by Active Investors
Influential Real Estate People & Business Owners Attending!
Meet and Mingle with REI Group Leaders from Southern AND Northern California!
Find Potential Partners, New Friends, Build Your Circle of Influence.
Remember Your Net Worth = Your Network
* Celebrate Real Estate in Your Market!
Our discussions cover a wide range of topics:Commercial & Residential Real Estate *
Private Lending * Raising Capital * Networking Tips to Grow Your Influence * Strategies to Increase ROI * Gain Perspectives on TOP Local & National HOT Markets * Fix & Flips * Buy and Hold + Wholesaling, Notes & More… We have investors joining us from many states!
YOUR NET WORTH IS EQUAL TO YOUR NETWORK
We are hosting this event to help increase your contacts
and to further your potential in this industry, so don't miss out!
Also, Inside Our Publications Discover Finance Leaders: Our VIP Advertisers in the Finance Industry Include: New American Finance, Pacific Private Money, Zinc Financial, B2R Finance, and Security National Mortgageamong others, learn about these financial resources
Learn Tips and Strategies on TOP Real Estate Niches:
Fix 'n' Flip, Wholesaling, Crowdfunding, Buy & Hold, Local & Out-of-State, Private Lending, Commercial & Residential Real Estate, Notes, Credit Optimization, Trust Deeds & More.
Learn Investor Tips to WIN in Real Estate in 2016 at this Event, Join Us! No matter what, please mark your calendar so you don't miss out on this fantastic real estate and finance expo. Our goal is to provide fantastic resources to help you learn about real estate or grow as an investor. We know your time is valuable, so we have wonderful books, magazines, and other gifts to give away.
Build NEW friendships and business collaborations with some of the industry's TOP Leaders. Plus, guests will discover new resources to FUND deals. Joining us are incredible speakers, sophisticated investors, & VIP Industry Leaders.
OUR SPEAKERS INCLUDE A DYNAMIC TEAM such as:

* Dani Beit-Or, Founder of Simply Do It, a real estate investor real estate club and network with offices throughout California
* Kaaren Hall, founder and owner of one of the fastest-growing Self-Directed IRA companies in the nation and hostess of the monthly OC REIA group
* Hector Padilla, a local accredited investor and broker who has purchased $72 Million in California Real Estate, all by the age of 40.
* Rebecca Rice, an authority on Whole Life Insurance, who is one of the most influential women in the insurance industry. Rebecca and her partner, Jim Beam, will discuss how ordinary Americans can leverage the world's most powerful institutions.
* HomeVestors, We Buy Ugly Houses, the nation's largest home buyer in America!
AND SO MUCH MORE, SUCH AS:
---
Learn From Sensei Gilliland with BLACK BELT INVESTORS
Black Belt Investors' Real Estate Master, Sensei Gilliland, has been honored as the nation's leading real estate expert and business mogul by Real Estate Wealth Magazine, and has now expanded his capacity for granting speaking engagements across the US.
Real estate investors frequently flock thousands of miles for words of wisdom from Sensei. His live training and coaching events are known for being value packed, overflowing with practical, quick to implement tactics, and energizing for both white belt and black belt level real estate investors and business owners.
Any real estate investor seeking to increase their own knowledge with a highly recognized and sought out industry will find Sensei packs a real punch when on the bill.
In a sentence, Sensei's education is – "No fluff, just hard hitting, real tactics investors can put into action effectively, delivered by a real estate master that has proven his mettle over two decades." Come hear one of the most powerful leaders in today's real estate industry.
~~~~~~~~~~~~~~~~~~~~~~~~~~~~
LEARN FANTASTIC INFORMATION, SUCH AS:

* What is the best property type to buy and why.
* Where are the best markets in the US now.
* When is the real estate cycle going to be the best in various markets?
* How to start Buying quality real estate THIS MONTH!
* Property Management secrets.
* Financing secrets
* Future building using the right real estate.
PLUS…. REBECCA RICE – REBECCA RICE AND ASSOCIATES
Rebecca Rice and Associates is traveling from a great distance to meet you. Rebecca and JIm Beam (both pictured below), have created a huge impact in the lives of many Realty411 fans and readers. Learn how you can benefit from learning what the wealthy already know.
Leverage the world's most powerful financial institutions and create your own private lending machine.
A MESSAGE FROM REBECCA'S PARTNER:
"I'm Jim Beam of Jim Beam Financial partnering with Rebecca Rice and Associates. We work with folks all over the country to improve their financial position using the same strategies we use. Today I will be sharing one of our favorite strategies that you will be able to use in your Real Estate Investing business.
Many investors talk about leveraging. Some discuss compound interest. Fewer, if any, put the two strategies together. Iwill be sharing an amazing strategy of leveraging the world's most powerful financial institutions.This leveraging strategy, when combined with the uninterrupted compounding growth of your retained capital, will generate wealth in such a way as you have never seen before.
Come prepared to explore how banks leverage money and how you can emulate them in your Real Estate Investing. I will show you how to borrow money at low interest rates so you can invest at higher rates. AND, retain your personal capital in the safest, the strongest and the most resilient financial institutions in the world.
ATTENTION INVESTORS, AGENTS, BROKERS, BUSINESS OWNERS

NETWORK WITH EXHIBITORS – WIN PRIZES – BRING THE FAMILY
PLUS, MANY MORE FANTASTIC INFORMATION AND TIPS!
~~~~~~~~~~~~~~~~~~~~~~~~~
*please note speaker schedule to change without notice due to conflicts, weather or other circumstances beyond our control. Thank you.
WHAT MAKES US UNIQUE
Since 2007, Realty411 has been a positive force in the real estate industry providing valuable insight, resources and information to help investors improve their lives and expand their realty knowledge and portfolios. Our only mission is to help others succeed in real estate and to be a positive example for our industry.
GROWING STEADILY AND STILL GOING STRONG
Founded by a 22-year veteran publisher and journalist, Realty411 remains the fastest-growing publication having gone from a 12-page newsletter in 2007 to publishing nearly 200 pages of real estate news and strategies in July 2016 with their print magazine as well their online REI Wealth Monthly issue. Currently, Realty411 produces and hosts expos and events around the country.
REPUTATION AND INDUSTRY STANDING
Realty411 takes pride in having a stellar reputation with zero complaints or rip-off reports. The publisher of Realty411 and her entrepreneurial family owns multiple businesses in Southern California. They are uniquely qualified to publish personal financial resources and insight.
~~~~~~~~~~~~~~~~~~~~~~~~~~~~~~~~~~~~~~~~~~~~~~~~~
FOR INFORMATION PLEASE CONTACT US:

CALL: 805.693.1497 | 24 Voice Mail: 310.499.9545
Realty411's main info website is: http://realty411guide.com
or http://realty411magazine.com or http://realty411expo.com
~~~~~~~~~~~~~~~~~~~~~~~~~~~~~~~~~~~~~~~~~~~~~~~~~~~~~~~~~~~~~~~~~~~~~~~~~~~~~~~~
Realty411 Magazine (http://realty411magazine.com) is a free print and online resource guide developed to assist investors in the acquisition, management and growth of their real estate portfolios. Realty411 is an advocate for education, and some of the greatest Masters of Creative Real Estate have been featured in the publication.
Realty411 also publishes a monthly digital publication, REI WEALTH. (http://www.reiWealthmag.com)
---
REALTY411 DISCLAIMER:
The publications, events, expos and mixers produced and promoted by Realty411guide.com, reWEALTHmag.com, CashFlow Express, REI Wealth Monthly and/or their owners, employees, agents, and affiliates (collectively "411") are for informational and entertainment purposes ONLY. The information and presentations provided therein do not constitute an offer or solicitation to buy or sell securities or real estate. Please be aware that real estate investing is VERY RISKY. 411 is not responsible for any of the information provided and/or statistical data presented, and 411 does not represent that any information or opinions expressed and data provided reflect the opinions, advice and research of the publishers, editors, columnists, vendors, speakers, sponsors, or guests who are in attendance at the events, and do not reflect the opinions, advice or research of 411. By attending 411 events you acknowledge that the investment strategies mentioned may not be suitable for you, that any real estate investment is inherently risky, that all investments are subject to risks, which could result in the entire loss of your investment, and that 411 is not responsible for any losses or outcome of any investment made by you from or after 411 events, or as a result of contacts made at these events as well as after reading 411 publications. You personally are 100% responsible for your due diligence, for all investment information and for all decisions with respect to any potential investment or transaction. 411 does not endorse, and has not performed due diligence on any of the columnists, advertisers, vendors, speakers, sponsors, companies and guests who appear at our events or in our publications. The information presented at any 411 event related to any potential real estate investment is general in nature and does not constitute legal, tax or investment advice. 411 strongly recommends that you seek the advice of your trusted attorney, broker, CPA and/or financial adviser before taking action as an investor. If you have had an unpleasant experience with a speaker or company sponsorsing our current or past expos, please contact us: (805) 693.1497.
**Real estate, and all investing, is risky and may result in the entire loss of your principal investment. PLEASE invest responsibly. **
Save
Save
Save
Save
Save
Save
Save
Save
Save
Save
Save
Save
Save
Save
Save
Save
Save
Save
Save
Save
Save
Save
Save
Save
Save