Save
Don't Miss this Informative, Educational & Exciting Expo & Cashflow Conference!
REAL ESTATE SUMMIT IN SLO – SAN LUIS OBISPO
---
EVENT THEME:
SLO & STEADY IS A SURE COURSE FOR SUCCESS – OUR CENTRAL COAST REAL ESTATE EXPO will Expand Your Knowledge and Insight.
---
Date: Saturday, MAY 13TH, 2017
Time: 9 am to 6 pm – NETWORKING MIXER AFTER!
VENUE: Courtyard by Marriott San Luis Obispo

1605 Calle Joaquin, San Luis Obispo, CA 93405
HOSTED BY CENTRAL COAST REIA AND REALTY411 – JOIN US AND LEARN FROM TOP INVESTORS. NETWORK WITH EXHIBITORS, COMPANIES, REAL ESTATE GROUPS, CLUBS, AND SERVICE PROFESSIONALS!
* Mingle with Companies * Meet Local Leaders & Out of Area Investors
NON-Stop Tips for Real Estate Success ~ Hosting Our Events Since 2007
Justin Ford – Difference Maker, Champion, Entrepreneur, Leader, Visionary
From struggle to success, Justin Ford truly lives the saying "It's not how to start but how you finish." At the age of 19, with his life in disrepair, Justin made the critical decision to turn it all around. Now at the age of 34, Justin has become a successful Entrepreneur, Business Owner, Real Estate Broker, Investor, Motivational Speaker, TV talk show host, Author, and Mentor. He has earned numerous achievement awards, and demonstrates daily that talent, drive and ambition really do lead to success.   Justin also excels as an inspirational youth and marketplace speaker. People can feel his powerful presence when he walks into the room. He wants to make a difference, and he takes that responsibility extremely seriously. Justin's passion and desire to see people rise to success leaves a lasting impact as he challenges all to become the champion they were created to be.
Justin lives in Metro Detroit with his wife and four children. The love and support of his family helps fuel his passion for success in all avenues that he pursues. In his spare time, Justin loves to travel and donate his time to The Positive Zone Project Foundation, which empowers high school students through character education and leadership development, while providing tools for building successful lives.
EXTREME FUND-ABILITY: THE EPIC FUNDING MASTER CLASS WITH MERRILL CHANDLER with Merrill Chandler, Founder of CreditSense!
About CreditSense
We are the creators of Credit Profile Optimization, ground-breaking technology that is radically transforming the personal and business borrowing success of entrepreneurs, real estate investors, business owners, and savvy consumers nationwide.
We've taken the mystery out of credit scoring, underwriting, and credit approvals so that we can deliver a process and proven system that lets you take charge of your credit approvals and fundability in a way that you may have never thought possible before.
Part 1: Weaponize Your Personal and Business Credit Profiles to Hit Any Lender's Funding Bullseye"
Business lines of credit and commercial loans depend on a fundable personal credit profile and Tier 1, or even 800+ credit scores. In Part 1 of this revolutionary presentation, Merrill will reveal four powerful credit transforming strategies that will help you to acquire the credit profile you need to attract lenders who will deliver more credit lines and loans than you ever thought possible- regardless of your current credit situation. Learn the fundamental strategies of underwriting criteria and how to get a yes from lenders.
Part 2: Leverage Your Personal and Business Credit Profile into Hundreds of Thousands in Business Credit Lines and Loans
The key to Wealth is the strategic acquisition and use of fundable personal and business credit profiles to qualify for and leverage OPM. In Part 2 of this powerful series, Merrill will show you not only how to acquire the lease expensive OPM available, but how to have lenders raise your credit lines – without even asking for it and without further income verification. You will also discover how to establish and "optimize" your business credit profile so that you are always in the center of the lender's funding bullseye!
Learn with Kathy Kelly from Turnkey Vacation Rentals!
TurnKey Vacation Rentals is a full-service vacation rental management company working with more than 2,000 properties in over 40 of the nation's most desirable locations. We use industry-leading technology and well-trained local teams to maintain your home and protect it from damage, provide a high-quality guest experience, and generate more rental income at an industry-low commission rate of 18%.
We Want & Can Help YOU Succeed As We Have. Bring Lots of Cards.
Mingle with Local Leaders & Industry Professionals from Around the Nation!
Hosted by Realty411 – Publisher of National Real Estate Magazines
Come celebrate the only national real estate investment publication, expo and network founded and based in California!
CONTACT US TO BE A SPONSOR: 805.693.1497
or email us directly at: realty411magazine@hotmail.com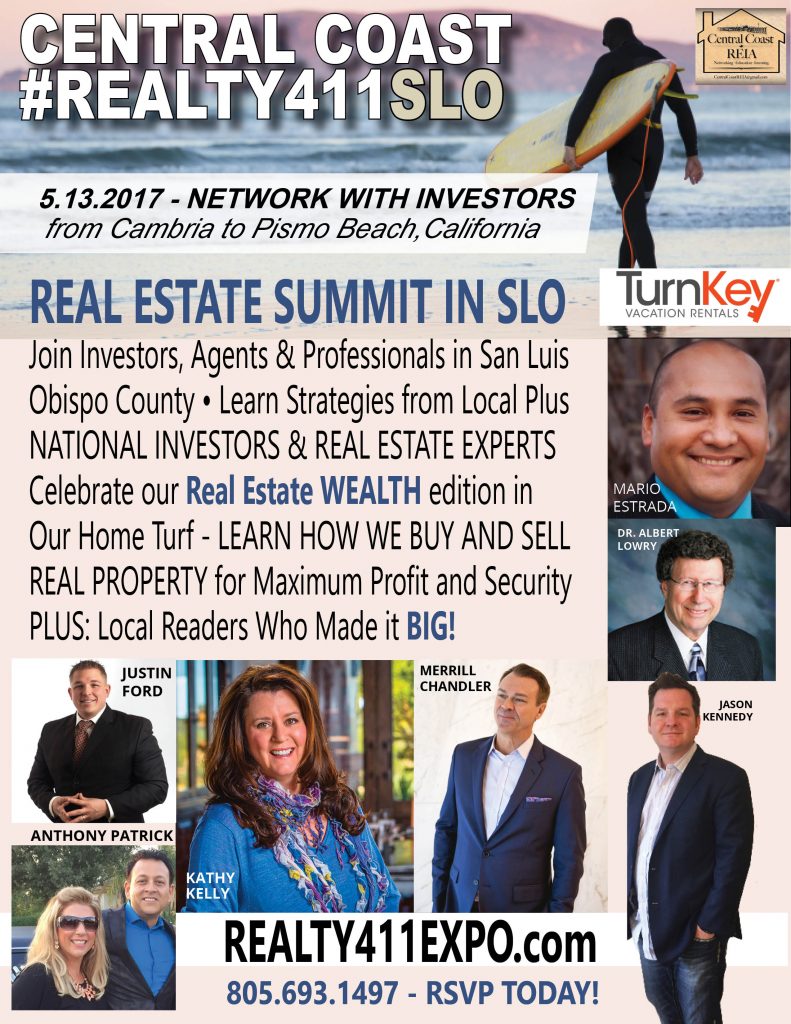 All Guests Receive Our California-based Investment Magazines –
REALY411 is Celebrating 10 Years of Business – We started our events and blogs posts about real estate in 2006, however in 2007 we published our first issue.

Meet Local Leaders & Industry Giants – Hosted by Active Investors
Influential Real Estate People & Business Owners Attending!
Find Potential Partners, New Friends, Build Your Circle of Influence.
Remember: Your Network = Your Net Worth
Celebrate Real Estate in Your Market! Our discussions cover a wide range of topics:Commercial & Residential Real Estate * Private Lending * Raising Capital * Networking Tips to Grow Your Influence * Strategies to Increase ROI * Gain Perspectives on TOP Local & National HOT Markets * Fix & Flips * Buy and Hold + Wholesaling, Notes & More…
We have investors joining us from many states PLUS from throughout the Golden State, from San Francisco to San Diego.
We are hosting this event to help increase your contacts and to further your potential in this industry! Similar events charge hundreds of dollars, this one is on us!
~~~~~~~~~~~~~~~~~~~~~~~~~~~~~~~~~~~~~~~~~~~~~~~~~
Learn Tips and Strategies on TOP Real Estate Niches: Fix 'n' Flip, Wholesaling, Crowdfunding, Buy & Hold, Local & Out-of-State, Private Lending, Commercial & Residential Real Estate, Notes, Credit Optimization, Trust Deeds & More.
~~~~~~~~~~~~~~~~~~~~~~~~~~~~~~~~~~~~~~~~~~~~~~~~~
RSVP HERE TODAY! FOR INFORMATION PLEASE CONTACT US:
CALL: 805.693.1497 | 24 Voice Mail: 310.499.9545
Realty411's main website is now: http://realty411magazine.com
Our previous website is still available at: http://realty411guide.com
Be sure to get your hands on our new release of Realty411 Magazine by picking up a free copy at one of our events!
ARE YOU A VIP REALTY411 MEMBER YET? IT'S FREE CLICK HERE
In addition, we publish a digital-only monthly called REI Wealth!
Don't miss this: http://reiwealthmag.com
No matter what, please mark your calendar so you don't miss out on this fantastic real estate and finance expo. Our goal is to provide fantastic resources to help you learn about real estate or grow as an investor. We know your time is valuable, so we have wonderful books, magazines, and other gifts to give away.
Start the year off right with spectacular networking!!! Build NEW friendships and business collaborations with some of the industry's TOP Leaders. Plus, guests will discover new resources to FUND deals. Joining us are incredible speakers, sophisticated investors, & VIP Industry Leaders.
Save
Save
Save
Save
Save
Save
Save
Save
Save
Save
Save
Save
Save
Save
Save
Save
Save
Save
Save