Save
Don't Miss this Informative, Educational & Exciting Expo & Cashflow Conference!
REAL ESTATE SUMMIT IN SLO – SAN LUIS OBISPO
---
EVENT THEME:
SLO & STEADY IS A SURE COURSE FOR SUCCESS – OUR CENTRAL COAST REAL ESTATE EXPO will Expand Your Knowledge and Insight.
---
Date: Saturday, MAY 13TH, 2017
Time: 10 am to 5 pm – NETWORKING MIXER AFTER!
VENUE: Courtyard by Marriott San Luis Obispo

1605 Calle Joaquin, San Luis Obispo, CA 93405
HOSTED BY CENTRAL COAST REIA AND REALTY411 – JOIN US AND LEARN FROM TOP INVESTORS. NETWORK WITH EXHIBITORS, COMPANIES, REAL ESTATE GROUPS, CLUBS, AND SERVICE PROFESSIONALS!
* Mingle with Companies * Meet Local Leaders & Out of Area Investors
NON-Stop Tips for Real Estate Success ~ Hosting Our Events Since 2007
We Want & Can Help YOU Succeed As We Have. Bring Lots of Cards.
Mingle with Local Leaders & Industry Professionals from Around the Nation!
Hosted by Realty411 – Publisher of National Real Estate Magazines
Come celebrate the only national real estate investment publication, expo and network founded and based in California!
CONTACT US TO BE A SPONSOR: 805.693.1497
or email us directly at: realty411magazine@hotmail.com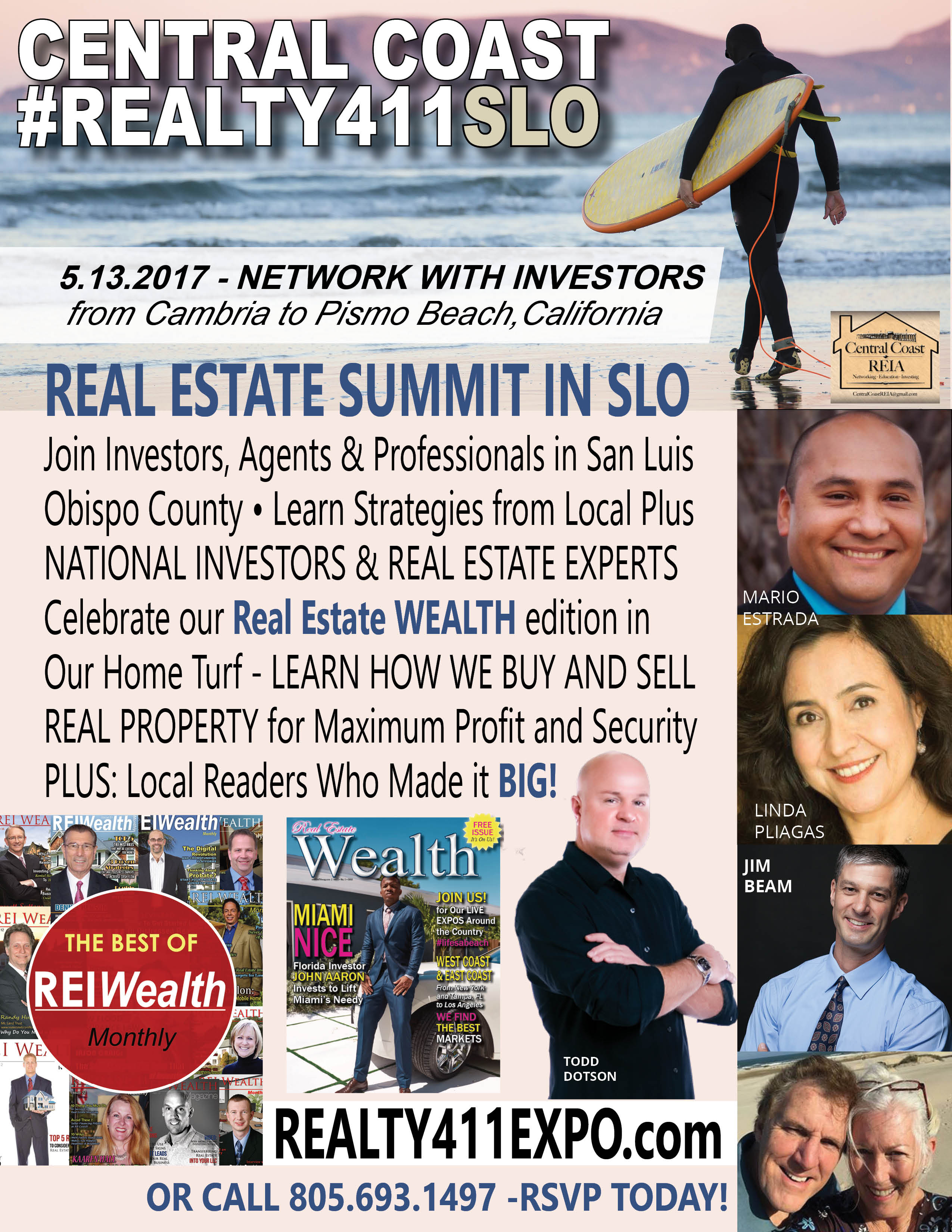 All Guests Receive Our California-based Investment Magazines –

We are Celebrating 10 Years with Our REALY411 brand
Meet Local Leaders & Industry Giants – Hosted by Active Investors
Influential Real Estate People & Business Owners Attending!
Find Potential Partners, New Friends, Build Your Circle of Influence.
Remember: Your Network = Your Net Worth
Celebrate Real Estate in Your Market! Our discussions cover a wide range of topics:Commercial & Residential Real Estate * Private Lending * Raising Capital * Networking Tips to Grow Your Influence * Strategies to Increase ROI * Gain Perspectives on TOP Local & National HOT Markets * Fix & Flips * Buy and Hold + Wholesaling, Notes & More…
We have investors joining us from many states PLUS from throughout the Golden State, from San Francisco to San Diego.
We are hosting this event to help increase your contacts and to further your potential in this industry! Similar events charge hundreds of dollars, this one is on us!
~~~~~~~~~~~~~~~~~~~~~~~~~~~~~~~~~~~~~~~~~~~~~~~~~
Learn Tips and Strategies on TOP Real Estate Niches: Fix 'n' Flip, Wholesaling, Crowdfunding, Buy & Hold, Local & Out-of-State, Private Lending, Commercial & Residential Real Estate, Notes, Credit Optimization, Trust Deeds & More.
~~~~~~~~~~~~~~~~~~~~~~~~~~~~~~~~~~~~~~~~~~~~~~~~~
RSVP HERE TODAY! FOR INFORMATION PLEASE CONTACT US:
CALL: 805.693.1497 | 24 Voice Mail: 310.499.9545
Realty411's main website is now: http://realty411magazine.com
Our previous website is still available at: http://realty411guide.com
Be sure to get your hands on our new release of Realty411 Magazine by picking up a free copy at one of our events!
ARE YOU A VIP REALTY411 MEMBER YET? IT'S FREE CLICK HERE
In addition, we publish a digital-only monthly called REI Wealth!
Don't miss this: http://reiwealthmag.com
No matter what, please mark your calendar so you don't miss out on this fantastic real estate and finance expo. Our goal is to provide fantastic resources to help you learn about real estate or grow as an investor. We know your time is valuable, so we have wonderful books, magazines, and other gifts to give away.
Start the year off right with spectacular networking!!! Build NEW friendships and business collaborations with some of the industry's TOP Leaders. Plus, guests will discover new resources to FUND deals. Joining us are incredible speakers, sophisticated investors, & VIP Industry Leaders.
Save
Save
Save
Save
Save
Save
Save
Save
Save
Save
Save