– A Message from the Publisher –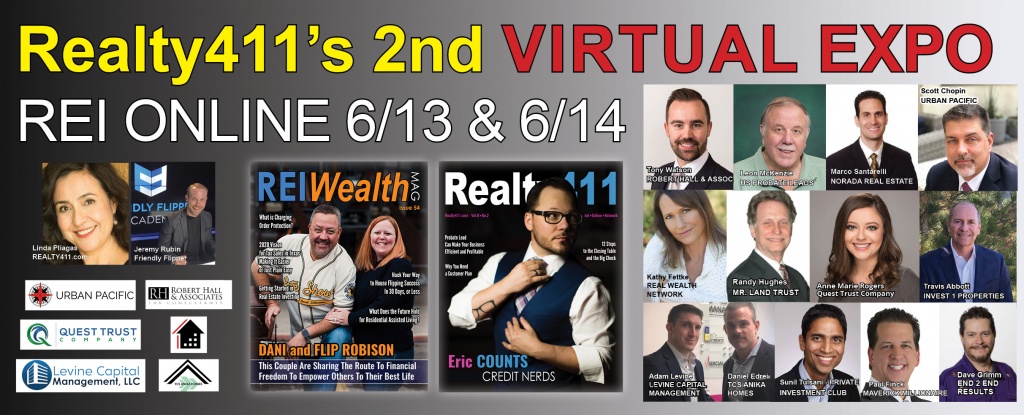 As we evolve and discover new ways of conducting business and daily life, we must stay aware of developing policies and industry news to position ourselves to thrive in this quickly-evolving world.

To help our readers, subscribers, fans and followers, we are conducting our second VIRTUAL WEEKEND EXPO on Saturday, June 13th, and Sunday, June 14th, beginning at 9 am PST.

Some timely topics and subject matters that will be covered are vital for the success of our portfolios, including: rehabbing, land trusts, multifamily investments, syndication deals, best rental markets, private finance, taxes, insurance options, IRA investing, leverage, buying and holding, motivation and positive thinking, and more!
This must-attend complimentary weekend expo is specifically designed to inform investors and give insight to assist our guests in making important decisions about their financial goals right now, and in the years to come.

Realty411's first weekend expo generated over 535 RSVPs, hosting investors LIVE from 35 states, and five foreign countries! Currently, we already have hundreds registered for this virtual expo as well, but we'd like to ask if you can please help share this email with others who may benefit from this important information.
One of the benefits of our complimentary VIRTUAL WEEKEND EXPO is that each participant may ASK ANY QUESTION they want at the end of each presentation!
It's a great opportunity to connect with distinguished educators and knowledgeable leaders who are actively engaged in real estate investing — day in and day out.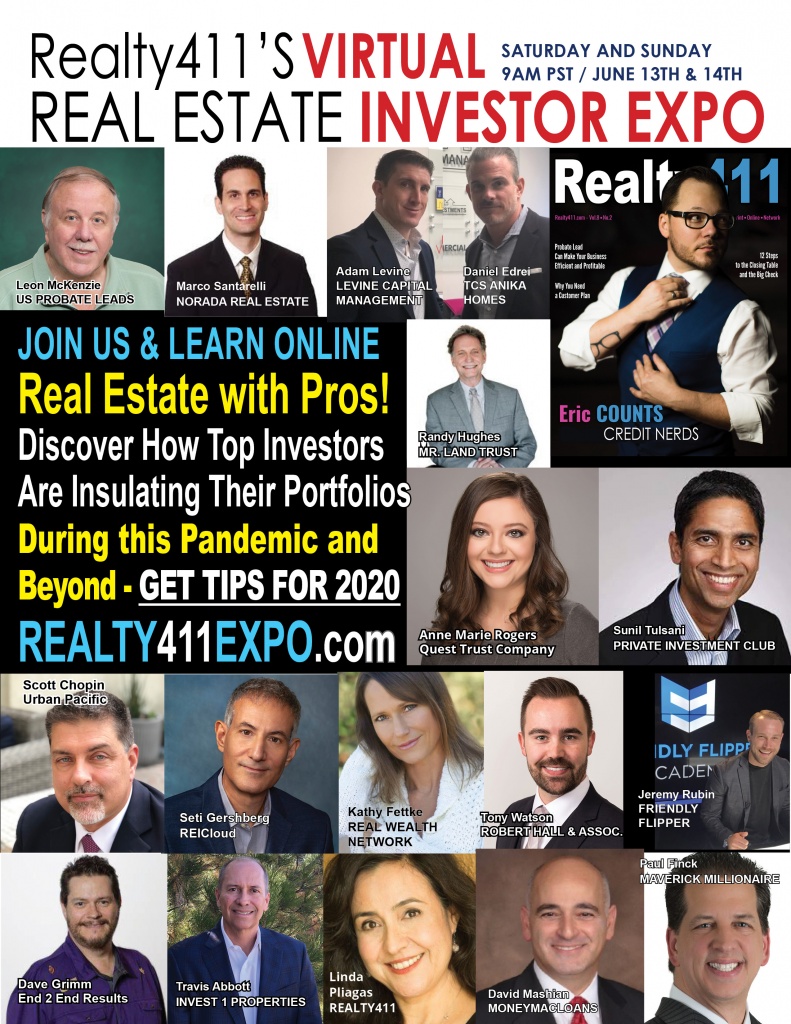 And, just who will be joining us?
Here are a few leading educators who are participating in our Virtual Real Estate Investor's Expo:

Kathy Fettke, Real Wealth Network
Randy Hughes, Mr. Land Trust
Marco Santarelli, Norada Real Estate
Adam Levine, Levine Capital Management
Kristine Gentry, US Probate Leads
Daniel Edrei, TCS Anika Homes
Travis Abbott, Invest 1 Properties
Sunil Tulsiani, Private Investment Club
Scott Choppin, Urban Pacific
Paul Finck, The Maverick Millionaire
Eric Counts, Credit Nerds
Seti Gershberg – ScottsdaleREI.com
Anne Marie Rogers – Quest Trust Company
Tony Watson, Robert Hall and Associates
Jeremy Rubin, Friendly Flipper
David Mashian, MoneyMac Loans
And many, many more!
You simply do NOT want to miss this phenomenal weekend of education, networking and fun… all complimentary and in the comfort of your home!
I hope you can join us for this very special weekend expo, and if you know anyone else who is serious about the benefits that long-term real estate investing can bring, then please be sure to forward this email to them.
Thank You, and see you there!