OUR NEW YORK EVENT DATE IS OCTOBER 14TH, 2017

Tickets will be available online shorty. Last year. our event was extremely successful uniting over 250 investors from throughout the Tri-State.
Numerous investors also attended from California, Arizona, Texas, Florida and other states. We are very excited about our next event in fabulous Manhattan.
Pencil in October 14th on your calendar and visit back to this website regularly for updates.
Our Last Year's Expo was FABULOUS!
---
Don't miss our complimentary real estate investor expo created and hosted by an accredited investor and real estate agent from California. Realty411 has been providing the resources investors need to be successful since 2007. We visit New York twice per year because we love it so much! Join us for our Special ANNUAL Real Estate Expo in Manhattan, the city that never sleeps, celebrating REIA NYC.
---

New York City Real Estate Investor Conference and Expo



OUR 2016 SPONSORS INCLUDED:
AUCTION.COM
REIA NYC
AARON ORGANIZATION
ANDERSON ADVISORS
CHRIS PREFONTAINE
EAST COAST REIA
HARBOR CITY CAPITAL CORP.
JC PROPERTY GROUP INC.
NOTE ASSISTANCE PROGRAM
REBECCA RICE & ASSOCIATES
REI WEALTH MONTHLY
REALTY411 MAGAZINE
SMART REAL ESTATE COACH
VIP FINANCIAL EDUCATION
BANKRUPTCY COURT SECRETS
Expo Tote Bags by:
uDirect IRA, Services
~~~~~~~~~~~~~~~~~~~~~~~~~~~~~~~~~~~~~
* Mingle with Company Executives * Meet Local Leaders & Out of Area Investors 
NON-Stop Tips for Real Estate Success ~ Make 2017 Your Year!
We Want & Can Help YOU Succeed.  Bring Lots of Cards.
NETWORK – LEARN – CONNECT – SKYROCKET IN 2017
BRING YOUR FLYERS OR BROCHURES FOR OUR "411" BOOTH
We know your time is VALUABLE. Time is the most valuable asset we have. We can always make more money; however, we cannot add more time to our life!
WE URGE YOU TO INVEST QUALITY TIME IN GROWING YOUR BUSINESS, CONNECTIONS, RESOURCES, KNOWLEDGE AND SPHERE OF INFLUENCE. 
Hosted by Realty411 – Publisher of National Magazines
Since 2007 our events have attracted fantastic people and companies.
---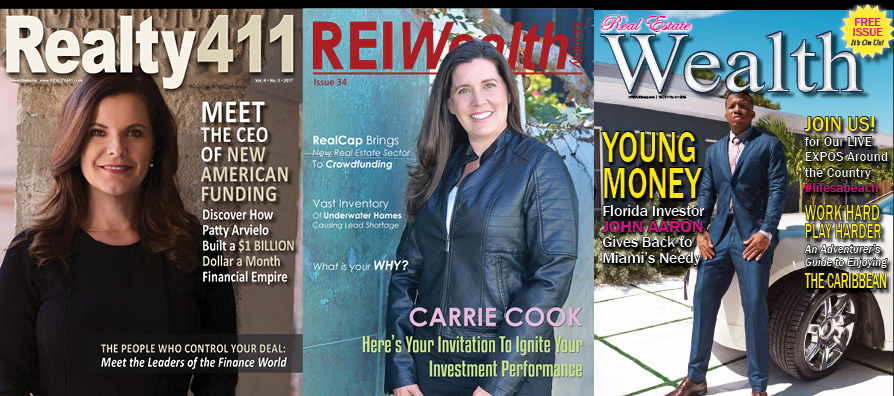 CONTACT US TO BE AN EXHIBITOR: 805.693.1497
Meet Local Leaders & Industry Giants – We are California Investors
Influential Real Estate People & Business Owners Attending!
Find Potential Partners, New Friends, Build Your Circle of Influence.
Remember Your Net Worth = Your Network
Mingle with Local Leaders & Industry Professionals from Around the Nation! Honoring the REIA NYC – OUR SPEAKERS INCLUDE:
---
Teresa R. Martin, Esq.
Attorney, Speaker, Financial Health Coach, Real State Investor
Teresa R. Martin, Esq. is a sought-after lecturer, keynote speaker, consultant, facilitator and educator; who demonstrates a deep understanding of the importance of financial education in business and in life. Her expertise is most adept for executive conferences, ministries and educational events. Teresa speaks passionately about self – realization, the importance of financial stewardship in business, the responsibility of personal development and influence in the pursuit of financial freedom.
Born in Long Island, NY, Teresa began her career in the legal industry in the late 90′s. Despite a paucity of mentors, Teresa was inspired to move up the corporate ladder to self-employment; creating her own successful law firm, the Law Offices of Teresa R. Martin, P.C. As principal of her own practice, she has honed her skills in the areas of real estate and bankruptcy; specializing in residential & commercial real estate transactions, foreclosure defense litigation and credit restoration services.
In addition to being an attorney, Teresa wears the hat of a seasoned real estate investor with a focus on creative acquisition strategies. Strategies that she developed, implemented and taught to others through her role as Counsel/Founder of Real Estate Investors Association NYC ("REIA NYC") and as Director and past President of the New York Chapter of Better Investing, the nation's largest non-profit organization dedicated to investment education.
Her financial literacy message endeavors to impart knowledge about attainable money management and business ownership skills for individuals of all ages, but she has an affinity for single and teen mothers. Through a hands on approach, Teresa's passion is to teach single and teen mothers to obtain a financial life before debt becomes a way of life and to encourage the utilization of generational wealth building principals.
Teresa has appeared as a legal and real estate expert on Voice of America, Real Estate Straight Talk and numerous radio programs. She has been featured in such publications as Money Magazine and Diva Zone Magazine. Teresa, has two adult daughters, is the very proud grandmother of two grandchildren and currently lives in Brooklyn, New York.
Meet the Publisher of Realty411, the longest-running national realty investing magazine and expo company in the nation. Realty411 has led the REI industry since 2007 as the fastest-growing magazine brand with their creative marketing. Their global visibility has skyrocketed by their large social media following.
Linda Pliagas – Realty411, publisher/investor/agent
* Linda Pliagas has owned rental properties in five states
* She has been a licensed agent for 16 years and has a bachelor's degree in journalism
* She has been a national publisher since the age of 25 and has also referred millions in real estate transactions. She has years of expertise in both industries
* Linda has been a landlord for over 24 years in California and Out of State
* Linda is a self-made millionaire and has been mortgage-free in California since age 39
Save
Save
Save
Save
Save
Save
Save
Save
Save
Save
Save
Save
Save
Save
Save
Save
Save
Save
Save
Save
Save
Save
Save
Save
Save
Save
Save
Save
Save
Save