Celebrate A New Year, New Goals and
New Opportunities with Realty411
Learn the Latest Niches in Real Estate + Connect with Influential Investors from across the Nation & Throughout California
~~~~~~~~~~~~~~~~~~~~~~~~~~~~~~~~~~~~~~~~~
Since 2007, Realty411 Has Been Sharing Print and Online REI Resources for Investors around the Nation. We Hope You Can Join Us In Person. Connect, Learn & Network

Are you ready to Grow Your Real Estate Business, Portfolio and Network?
We want this VIP EXPO TO EXPAND YOUR MIND and help you succeed.
This is Your Chance to meet TOP Leaders in REI, Local & National Experts
Learn from Leaders & Industry Pros
Meet Local PLUS Out-of-Area Investors
NON-Stop Tips for Real Estate Success
Bring Lots of Business Cards
Realty411 is based in Southern California. Since 2007, we have dedicated our time, resources and energy to help expand real estate knowledge and education by providing complimentary magazines and expos. Learn more about Realty411 at:
http://realty411.com or http://realty411guide.com or http://realty411expo.com
We also produce REI Wealth magazine, which is the longest-running magazine for investors specifically developed for online readership! We also print copies of this fabulous issue as well. Learn more about this publication at:  http://REIwealthmag.com
INVEST YOUR TIME HERE FOR ONE SPECIAL DAY OF NETWORKING & MOTIVATION – TAKE YOUR REAL ESTATE KNOWLEDGE TO A NEW LEVEL.
Don't miss our complimentary real estate investor expo created and hosted by an accredited investor and journalist and California native. What can you expect?
Learn with PROVEN Leaders in the Industry:
Receive the latest REI knowledge from REAL investors
Meet other investors with common goals and mindsets
Develop relationships with leaders in the industry
Share your opportunities with potential clients
Learn how to help and mentor newer investors
Save money by implementing wealth-building ideas
We strive to share life-changing information unavailable anywhere else

We host events to share knowledge and motivate others
Our mission is simply to motivate others and to help provide realty resources so that average Americans can learn about the benefits of long-term real estate investing.
We know your time is VALUABLE.  Time is actually the most valuable asset we have.  Remember: We can always make more money; however, we cannot add more time to our life!
WE URGE YOU TO INVEST QUALITY TIME IN GROWING YOUR BUSINESS, CONNECTIONS, RESOURCES, KNOWLEDGE, AND SPHERE OF INFLUENCE.
What Can You Expect? WATCH THIS!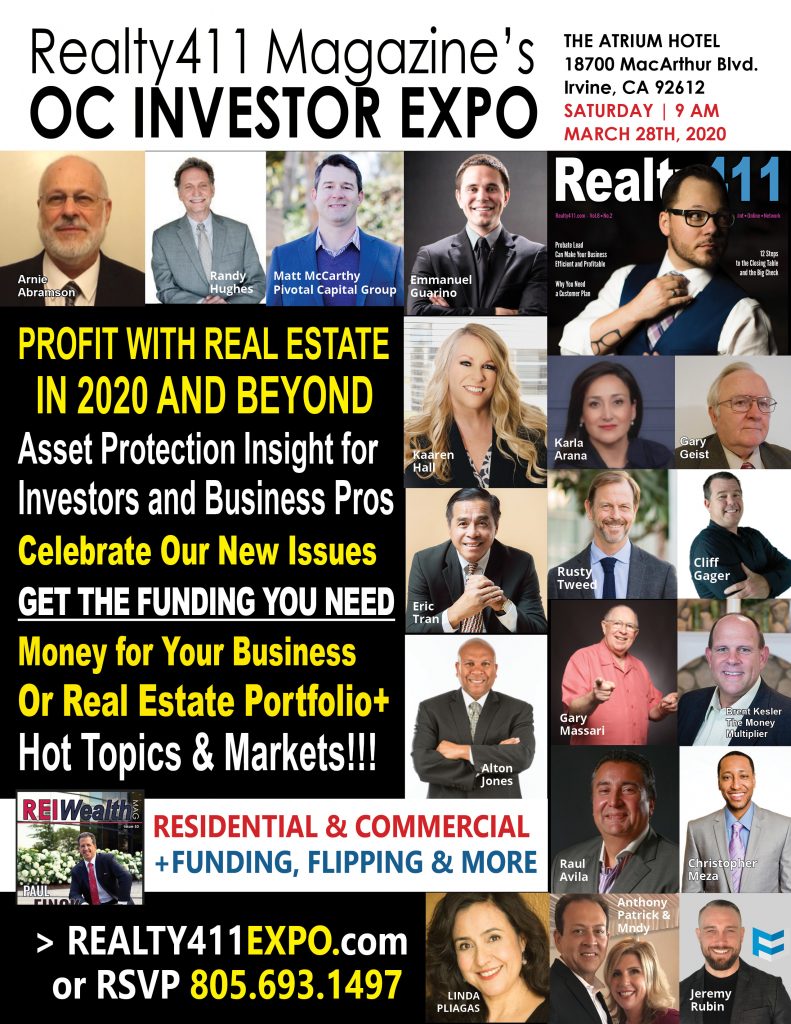 Meet the Following Top-Level Educators at Our OC Investor Expo:
Gary Massari – REI Fortunes
Rusty Tweed – TFS Properties
Raul Avila – The AVFund Group
Randy Hughes – Mr. Land Trust

Alicia D. Clark – Private Funding
Arnie Abramson – Texas Tax Sales
Brent Kessler – The Money Multiplier
Kaaren Hall – uDirect IRA and OC REIA
Eric Tran – Universal Commercial Capital

Alton Jones – Local and National Investor
Christopher Meza – Commercial Real Estate
Cliff Gager – Local California Investor & Educator
Emmanuel Guarino – Residential Assisted Living
Gary Geist – HomeReplay – Ohio Turnkey Provider

Lawrence Jacobsen, Esq. – Real Estate Attorney/Investor
Event Emcees:
Anthony Patrick – New Harvest Ventures

The Inland Empire's Most Active Real Estate Investor
Jeremy Rubin – The Friendly Flipper
The Central Coast's Most Active Real Estate Investor
Thank You to Our Private Capital Sponsors:
Universal Commercial Capital, Alicia D. Clark Funding & Pivotal Capital Group
PLUS, MANY MORE TO BE ANNOUNCED!! STAY TUNED.
– Please check back regularly for future updates, Thank You. –
Our FIRST EXPO of 2020 is designed to catapult you to a new level of influence now and beyond… Don't miss the opportunity to connect at our LAST EVENT of the year.

Our Top-Level educators are experts in their respective industries and are joining us to answer ANY AND ALL questions you have, regarding:
Financing Your Next Deal
Probate Investing Know-How

Investing Hot-Spots in California
Out-of-State Property Education
1031 Exchanges – Grow Tax-Free
Residential Assisted Living Properties

Commercial Real Estate Investing
Asset Protection for HNWs – High Net Worth

Grow Tax-Free with the Right IRA
How to Have the Right Mindset
Plus, Top-Tips to Rehab MORE

This memorable day will bring you quality content, plus provide you with fantastic local and national contacts during our networking breaks.
At this One-day SPECIAL event, created for our sophisticated readers, we will share important knowledge, strategies, and resources to help increase your portfolio as quickly as possible. Plus, information and contacts that real estate professionals will make at our event will help increase their business, gain an advantage, and expand their knowledge.
Prepare for prosperity — 2020 Is Your Year!
In fact, right now is one of the best times of the year for sophisticated entrepreneurs to take action and make their dreams a reality. This event will RECHARGE YOU to achieve your greatest potential in real estate, business and life, in 2020 — and beyond…
Make plans to attend our first event of the year to connect with our important and awesome magazine readers!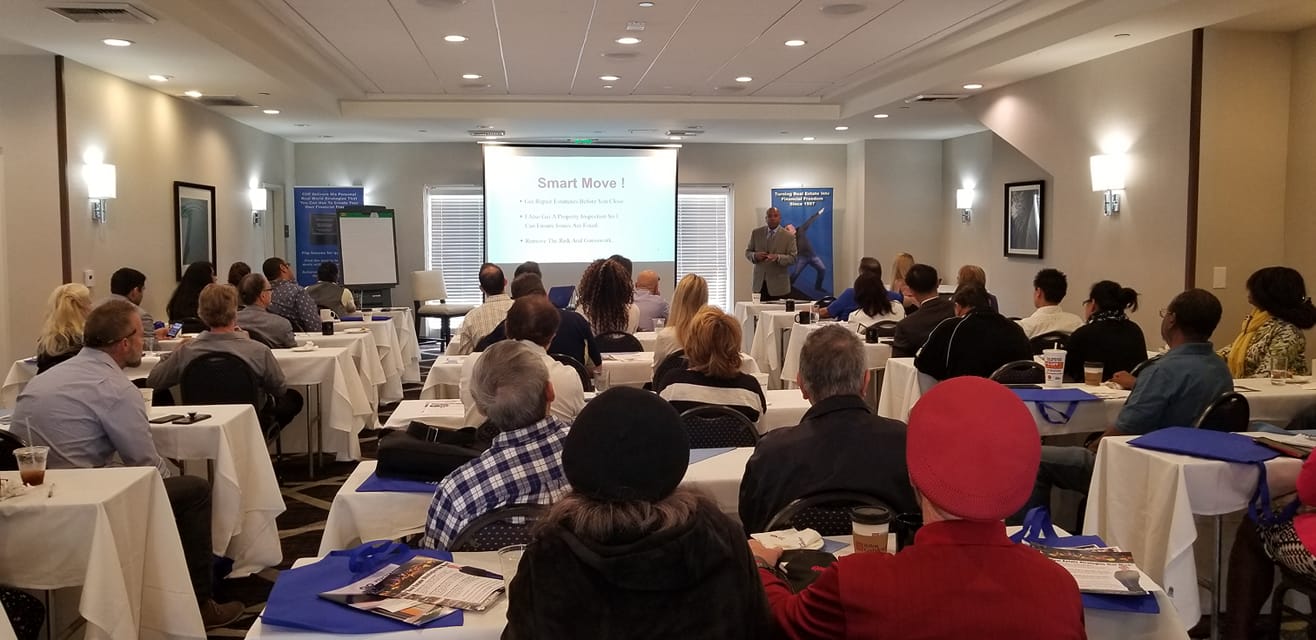 FOR INFORMATION ABOUT REALTY411, VISIT:
> http://Realty411.com
> http://Realty411expo.com
> http://Realty411guide.com
> http://REIWealthmag.com
> http://RealEstateInvestorMagazines.com
We have been sharing our knowledge since 2007.

Our print and digital publications have reached tens of thousands of investors and we have met thousands of them in person at our live events.
Currently, our database reaches 75,000 investors, broker/agents/private lenders and service providers, and is growing by thousands monthly.
Realty411 has produced complimentary events, to reach our readers in person in more states than any other real estate investment publication! We have visited our readers in ten states with our live events, including: California, New York, Texas, Florida, Washington, Oregon, Arizona, Nevada, Illinois, and Indiana.
Other events charge hundreds of dollars, but this day is PRICELESS!
ABOUT US: Realty411.com's founder, Linda Pliagas, has many years of media and real estate experience having graduated from California State University, Long Beach, with a degree in journalism. Plus, her real estate education includes 16 years as a California-licensed agent.
For speaking and exhibitor information, please call:
805.693.1497 or [email protected] or text: 310.994.1962.
Since 2007 Our events Have Attracted Leading Companies
Early-bird and VIP Guests Receive Our Investment Magazines
Meet Local Leaders & Industry Giants – From Coast to Coast
Influential Real Estate People & Business Owners Attending
Find New Like-Minded Friends, Build Your Circle of Influence
Mingle with Local Leaders & National Industry Professionals
Your Network = Your Net Worth

NETWORK WITH READERS, LEADERS AND FRIENDS
— Our expo will inform and inspire you —
Realty411 magazine was first published in 2007 and is now the longest-running publication owned by the same owner, Linda Pliagas.  Based in Santa Barbara County, Realty411 has reached thousands of readers and online followers in person in ten states throughout the United States.  We have one of the largest and most diverse social media of any other real estate investing company utilizing accounts for both magazines, Realty411 and REI Wealth, on Facebook, Instagram Twitter, LinkedIn, Pinterest, Tumbler, Blogger, YouTube, Flicker, Slider, Joomag, and many more!

Our mission is simple:
We strive to provide insightful information about real estate ownership to expand knowledge about the benefits of investing.
Please bring LOTS OF BUSINESS CARDS, it's time to Network.
LEARN ALL ABOUT PRIVATE FINANCE SO YOU CAN GROW AND LEVERAGE!