Don't Miss this Informative, Educational & Exciting Expo & Cash-flow Conference!
> Celebrate Our NEW Issues in San Diego, California –

DOWNLOAD OUR SCHEDULE HERE: https://joom.ag/8lRL
Join us and learn about 1031 Exchanges, Asset Protection, FOREX, Best Markets Across the County, Building a Legacy with Your Knowledge, Buying and Flipping Homes in CA and Out of State and More! As featured in the La Jolla Light, La Jolla Village News, San Diego Downtown News, Beach and Bay Press, Among Others!
Celebrate Ten Years of Publishing with the Only Real Estate Investor's magazine owned by active California investors whose mission is to help others learn about the benefits of owning real estate as a means of creating long-term wealth. We have been hosting real estate expos, mixers and events since 2006, prior to even starting our publication.
This is where our monthly REI Wealth magazine (http://reiwealthmag.com) was started back three years ago. Plus, in 2007, we began REALTY411 (http://REALTY411.com) magazine (http://realty411magazine.com or http://realty411guide.com – EXPLORE ALL OF THEM!
REALTY411 has reached more magazine readers in person nationwide since the start of their publication than any other publication in the real estate investment industry. To see our busy schedule and locate other events around the nation, visit our REALTY411 EXPO site (http://realty411expo.com)
Date: Saturday, SEPT. 16, 2017
Time: 9 am to 5 pm – COFFEE MIXER IN THE MORNING WITH COMPLIMENTARY COFFEE AND PASTRIES FOR OUR GUESTS.
PLEASE NOTE NEW VENUE:
EMBASSY SUITES, 4550 La Jolla Village Dr, San Diego, CA 92122
Join us for a Complimentary Breakfast Buffet in the morning for our Networking Mixer and Creative Investor's Expo Conference in San Diego!
HOSTED BY THE OUTBACK AND REALTY411 – JOIN US AND LEARN FROM TOP INVESTORS IN CALIFORNIA PLUS OUT OF STATE.
NETWORK WITH EXHIBITORS, COMPANIES, REAL ESTATE GROUPS, CLUBS, AND SERVICE PROFESSIONALS – THIS IS THE PLACE TO BE!
* Mingle with Companies * Meet Local Leaders & Out of Area Investors
NON-Stop Tips for Real Estate Success ~ Hosting Our Events Since 2008
We Want & Can Help YOU Succeed As We Have.  Bring Lots of Cards.
Mingle with Local Leaders & Industry Professionals from Around the Nation!
Hosted by Realty411 – Publisher of National Real Estate Magazines
Come celebrate the only national real estate investment publication, expo and network founded and based in California!
CONTACT US TO BE A SPONSOR: 805.693.1497
or email us directly at: [email protected]
All Guests Receive Our California-based Investment Magazines
Meet Local Leaders & Industry Giants – Hosted by Active Investors
Influential Real Estate People & Business Owners Attending!
Find Potential Partners, New Friends, Build Your Circle of Influence.
Remember Your Net Worth = Your Network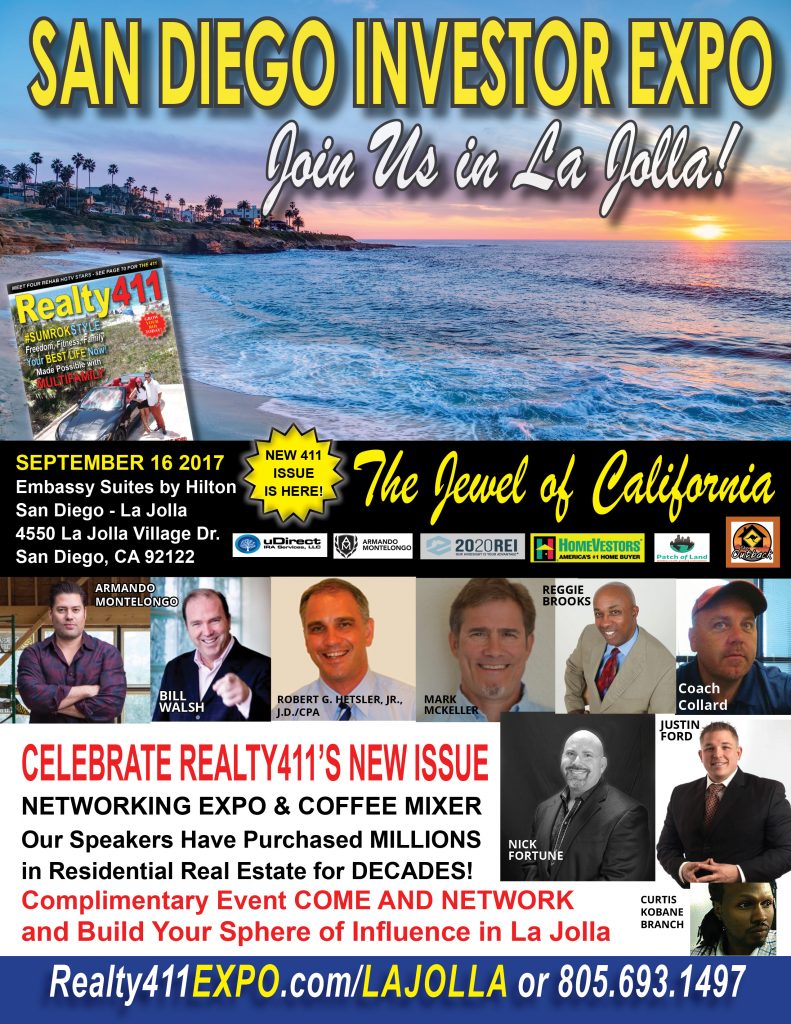 Celebrate Real Estate in Your Market! Our discussions cover a wide range of topics:Commercial & Residential Real Estate * Private Lending * Raising Capital * Networking Tips to Grow Your Influence * Strategies to Increase ROI * Gain Perspectives on TOP Local & National HOT Markets * Fix & Flips * Buy and Hold + Wholesaling, Notes & More…
 
We have investors joining us from many states * YOUR NET WORTH = YOUR NETWORK
We are hosting this event to help increase your contacts and to further your potential in this industry, so don't miss out!
Also, Inside Our Publications Discover Finance Leaders. Our VIP Advertisers in the Finance Industry Include: Ignite Funding, Civic Financial Services, New American Finance, Pacific Private Money, Zinc Financial, B2R Finance, and Security National Mortgage among others!
~~~~~~~~~~~~~~~~~~~~~~~~~~~~~~~~~~~~~~~~~~~~~~~~~
Learn Tips and Strategies on TOP Real Estate Niches: Fix 'n' Flip, Wholesaling, Crowdfunding, Buy & Hold, Local & Out-of-State, Private Lending, Commercial & Residential Real Estate, Notes, Credit Optimization, Trust Deeds & More.
~~~~~~~~~~~~~~~~~~~~~~~~~~~~~~~~~~~~~~~~~~~~~~~~~
FOR INFORMATION PLEASE CONTACT US:
CALL: 805.693.1497 | 24 Voice Mail: 310.499.9545
Realty411's main website at: http://realty411guide.com
Be sure to get your hands on our new release of Realty411 Magazine, Private Money411 and CashFlow Express either by mail, or by picking up a free copy at one of our events!
ARE YOU A VIP REALTY411 MEMBER YET? IT'S FREE CLICK HERE     
In addition, we publish a digital-only monthly called REI Wealth! Don't miss this:
No matter what, please mark your calendar so you don't miss out on this fantastic real estate and finance expo. Our goal is to provide fantastic resources to help you learn about real estate or grow as an investor. We know your time is valuable, so we have wonderful books, magazines, and other gifts to give away.Start the year off right with spectacular networking!!! Build NEW friendships and business collaborations with some of the industry's TOP Leaders. Plus, guests will discover new resources to FUND deals. Joining us are incredible speakers, sophisticated investors, & VIP Industry Leaders.
Learn Investor Tips to WIN in Real Estate in 2016 at this Event, Join Us! Our Outstanding Speaker Line-Up, Includes:
JOINING US FROM LAS VEGAS, MARK "COACH" COLLARD, FOUNDER OF THE OUTBACK REAL ESTATE INVESTMENT NETWORK.

Mark has two real estate groups, one in Las Vegas and one in San Diego. Join us to learn from one of the most innovative people int he industry.
Mark "Coach" Collard – will cover some of the follow as seen below
Wholesaling
Knowing When to say When
Outback Extravaganza
Changes in Loan Products
The Fundamentals
ABOUT Mark "Coach" Collard
Investor in man and land, in that order! Love to teach and coach!
Welcome to the Outback! For real estate investors, the Outback is a "solutions at all cost" mentality that is fed by proper mindset and real estate fundamentals. It allows for creative solutions to acquire real estate outside of traditional "inside the box" mentality that has been brainwashed into us by the banks and society as a whole. With the proper mindset and fundamentals, over time one can acquire enough real estate with little to no of their own money to build a large portfolio that can provide one with financial independence.
Every meeting we host both in Las Vegas and in San Diego will cover mindset & fundamental technical lessons, along with the opportunity to networks with other local investors. Come with an open mind to learn more about what's possible in the Outback.
~~~~~~~~~~~~~~~~~~~~~~~~~~~~~~~~~~~~~
Mark McKeller, HomeVestors of America, Inc., "We Buy Ugly Houses"
Do you want to meet the most prolific buyer of Single Family Homes in the United States?
Then join us to learn from the nation's top home buyer, HomeVestors. Discover how they do it and where they are buying! Dallas-based HomeVestors of America, Inc. is the largest professional house buying franchise in the U.S., with more than 65,000 houses bought since 1996. HomeVestors® recruits, trains and supports its independently owned and operated franchisees that specialize in building businesses based on buying, rehabbing, selling, renting and holding residential properties.
HomeVestors has more than 660 franchises spanning 45 states throughout the U.S. and is America's #1 home buyer. The first and only franchised company of its kind, HomeVestors franchisees specialize in buying homes in need of repair and helping homeowners in ugly situations. Known as the "We Buy Ugly Houses®" company, HomeVestors strives to make a positive impact in each community where it operates.
~~~~~~~~~~~~~~~~~~~~~~~~~~~~~~~~~~~~~
Robert G. Hetsler, Jr., J.D./CPA/CVA/CFF/CFFA/FCPA/CMAP/PFP
Mr. Hetsler has devoted his career to advising business owners and attorneys on all things related to business valuation, forensic accounting, 1031 exchanges, commercial real estate (Self-Storage specifically), financial planning, and mergers/acquisitions. He is the Managing Director of Hetsler Mediation & Valuation, Inc., a uniquely specialized accounting and consulting firm dedicated to providing business valuation, forensic accounting and Mergers & Acquisitions ("M&A").
Robert has valued businesses across all industries for divorce, partner or shareholder disputes, Estate & Gift tax, buy/sell agreements, dissenting shareholder actions, M&A's and Employee Stock Ownership plans ("ESOP"). Business valuations, 1031 Exchanges, forensic accounting, income producing property and retirement division through the preparation of Qualified Domestic Relations Orders (QDRO's) are the five key areas of Robert's innovative financial practice.
Robert has testified in numerous courts as an expert witness in, retirement division, business valuations and forensic accounting. He has also been appointed as a neutral business valuator in litigation cases. Prior to focusing all his time on the unique practice areas above, he was a civil/family mediator where he conducted over three thousand mediations ranging from high conflict business disputes to high net worth divorce cases. Robert operates as an M&A consultant to business & real estate owners wishing to liquidate or expand their business via selling their business or acquiring an existing business' or real estate. He has been involved in many transactions in industries such as self storage, billboards, manufacturing, technology, legal, construction, medical/dental practices, etc… as the lead consultant ensuring the transaction, along with all the intricate details, closes timely and smoothly.
HIs life passion has been real estate with his first personal transaction involving billboards. He now owns nine separate storage facilities, several other commercial properties and six investment homes. Fourteen years ago, the tax attorneys to whom Robert worked with in the business valuation world, asked him to operate as a Qualified Intermediary which was directly related to his passion for real estate investing. It was the perfect storm in that he could speak with like-minded people and have fellow investors as clients, which is the ideal opportunity to combine his passion with his education and skillset.
Thereafter, Robert has spent most of his professional life working in and around real estate as an investor, qualified intermediary, replacement property expert, and real estate agent. After Law School, he worked for a real estate attorney handling closings for three years. The results were a countless amount of national connections around the Nation from every possible angle in real estate.
Robert obtained a bachelor degree in Accounting along with an additional year of postgraduate studies in Accounting and Tax from University of North Florida.
He also acquired a Doctorate Degree in Jurisprudence from Florida Coastal School of Law. Finally, Robert is an active member of the, American Institute of Certified Public Accountants (Personal Financial Planning Section), the National Association of Certified Valuators & Analysts, and the Florida Institute of Certified Public Accountants (Valuation & Litigation Section).
~~~~~~~~~~~~~~~~~~~~~~~~~~~~~~~~~~~~~
Armando Montelongo, Star of "Flipping Nightmares" and former star of A&E's "Flip This House"
Armando is the ORIGINAL real estate reality star, and is consistently ranked as one of the most successful Hispanics in business. He is visiting us San Antonio, Texas!
Don't miss the very rare opportunity to learn directly from the founder of a company who has invested over one billion dollars. Armando has been doing this business longer than most people in the industry. Thi is his passion and it shows.
Starting off with no credit, experience, or knowledge, Armando is now known as one of the top real estate investors in the country. How did he go from living in his family-in-law's garage to owning a multi-million dollar company?
FLIPPING HOUSES
After deciding to leave California to move back to his hometown in Texas, Armando made his very first deal. His first wholesale introduced him to a whole new world – and it was only the beginning.
As Armando continued buying, rehabbing, and selling more and more properties, he kept in mind what worked and what didn't work. The more houses he flipped, the more he noticed a pattern. He wrote the pattern out and realized that he had come up with an excellent formula to successfully flip houses. The best part was that he didn't even have to use his own money!
SHARING THE KNOWLEDGE
In his first 3 years of investing, Armando was able to bring in a net profit of $3 million. As his expertise was increasingly being sought after,  Armando has created a multi-million dollar real estate education program that has helped aspirant house flippers. For instance, Armando's Flip and Grow Rich System teaches you how to find, fund, fix, and flip properties in the most efficient ways.
Residential real estate and in particular, flipping houses, is the most popular way to get started for anyone looking to get into the property game. Armando got his start in real estate by flipping houses and creating his system to gain the highest profit possible. Even though he has branched into other business ventures, Armando is still very active in residential and commercial real estate.
~~~~~~~~~~~~~~~~~~~~~~~~~~~~~~~~~~~~~
LEARN FROM BILL WALSH LIVE AND IN PERSON!
America's Small Business Expert® will be teaching his secrets to business leaders, real estate agents/brokers, private money lenders and all those who want to reach a HIGHER LEVEL of success!!!
Bill Walsh a venture capitalist and is the CEO/Founder of the Success Education/Business Coaching firm Powerteam International. Bill hosts and speaks at events all over the world! His passion is to empower entrepreneurs and business owners to create massive success. He is the best selling author of the book "The Obvious", is an amazing speaker, radio personality and movie celebrity. He has a very successful background in finance and marketing. He has spent over two decades working with start-ups to major global brands to help them increase sales, productivity and overall success. He is an innovator with a remarkable ability to determine and build success plans to help business owners seize immediate market opportunities.
For everyone that owns a business or would like to capitalize their entrepreneurial dream, his message will enlighten them with knowledge and action principles to turn that passion into success! Bill has an extensive background in foreign currency trading, real estate development and building businesses in more than 30 countries. Over the past two decades, his firm has specialized in helping companies launch, grow and create exponential valuation in the market. The Rainmaker Summit and WIN University programs offered through Powerteam are designed to assist entrepreneurs in creating the focus, plans and partnerships required to build multi-million dollar companies!
In 2005, he formed his own company, Powerteam International to spread his message to a wider audience. Powerteam International provides Success Education programs around the world.  The programs are designed for individuals, companies, and organizations that are interested in creating even more success.  Bill is committed to raising the awareness of entrepreneurs, business owners and organizations world wide!
~~~~~~~~~~~~~~~~~~~~~~~~~~~~~~~~~~~~~
Learn with Justin Ford – Difference Maker, Champion, Entrepreneur, Leader, Visionary and Curtis Kobane Branch, Forex Trader
From struggle to success, Justin Ford truly lives the saying "It's not how to start but how you finish." At the age of 19, with his life in disrepair, Justin made the critical decision to turn it all around. Now at the age of 34, Justin has become a successful Entrepreneur, Business Owner, Real Estate Broker, Investor, Motivational Speaker, TV talk show host, Author, and Mentor.
He has earned numerous achievement awards, and demonstrates daily that talent, drive and ambition really do lead to success. Justin also excels as an inspirational youth and marketplace speaker. People can feel his powerful presence when he walks into the room. He wants to make a difference, and he takes that responsibility extremely seriously. Justin's passion and desire to see people rise to success leaves a lasting impact as he challenges all to become the champion they were created to be.
Justin lives in Metro Detroit with his wife and four children. The love and support of his family helps fuel his passion for success in all avenues that he pursues. In his spare time, Justin loves to travel and donate his time to The Positive Zone Project Foundation, which empowers high school students through character education and leadership development, while providing tools for building successful lives.
Justin will introduce our guests to an amazing financial strategy: FOREX. Trading foreign currencies is a trillion-dollar a day industry and individuals, as well as insitutions and corporations are capitalizing on movement of currency. All trading can be done on your phone, 24 hours per day. Justin and his team are actively trading on FOREX with a company that has opened up the knowledge and access to trading to average, regular people without a traditional financial background.
Learn how to Implement a NEW Strategy into Your Portfolio and LIFE for FINANCIAL FREEDOM and to also diversify your holdings and knowledge. We never stop learning and growing and neither should you.
~~~~~~~~~~~~~~~~~~~~~~~~~~~~~~~~~~~~~
Here is more information about FOREX from Investopedia:
What Is Forex?
The foreign exchange market is the "place" where currencies are traded. Currencies are important to most people around the world, whether they realize it or not, because currencies need to be exchanged in order to conduct foreign trade and business. If you are living in the U.S. and want to buy cheese from France, either you or the company that you buy the cheese from has to pay the French for the cheese in euros (EUR). This means that the U.S. importer would have to exchange the equivalent value of U.S. dollars (USD) into euros. The same goes for traveling. A French tourist in Egypt can't pay in euros to see the pyramids because it's not the locally accepted currency. As such, the tourist has to exchange the euros for the local currency, in this case the Egyptian pound, at the current exchange rate.
The need to exchange currencies is the primary reason why the forex market is the largest, most liquid financial market in the world. It dwarfs other markets in size, even the stock market, with an average traded value of around U.S. $2,000 billion per day. (The total volume changes all the time, but as of August 2012, the Bank for International Settlements (BIS) reported that the forex market traded in excess of U.S. $4.9 trillion per day.)
One unique aspect of this international market is that there is no central marketplace for foreign exchange. Rather, currency trading is conducted electronically over-the-counter (OTC), which means that all transactions occur via computer networks between traders around the world, rather than on one centralized exchange. The market is open 24 hours a day, five and a half days a week, and currencies are traded worldwide in the major financial centers of London, New York, Tokyo, Zurich, Frankfurt, Hong Kong, Singapore, Paris and Sydney – across almost every time zone. This means that when the trading day in the U.S. ends, the forex market begins anew in Tokyo and Hong Kong. As such, the forex market can be extremely active any time of the day, with price quotes changing constantly.
Read more: Forex Tutorial: What is Forex Trading?
http://www.investopedia.com/university/forexmarket/forex1.asp#ixzz4j23btqJs
~~~~~~~~~~~~~~~~~~~~~~~~~~~~~~~~~~~~~
LEARN ASSET PROTECTION AND ENTITY FORMATION FROM NICK FORTUNE, CEO OF FORTUNE DNA
Nick Fortune is an inventor and intellectual creator for many asset protection and wealth strategy patents. Nick is an expert in evaluating complex macroeconomic legal issues and developing complex tax strategies for clients.
He is a frequent guest on a variety of talk and news shows. Nick is the author of "The CPA Survival Guide" and the Founder of the elite business and investor forum entitled Hush Hush Secrets of the Ultra Wealthy.
Nick is the author of one of the most downloaded resources online titled the "Tax Savings Survival Guide" for Real Estate Investors. For the last 20 years Nick has spoken for some of the largest real estate gurus and wealth building organizations in the world and continues to be an advisor to the same. Nick is the CEO of FortuneDNA, a 28 year national conglomerate encompassed of Legal, Tax, Financial, and Business Consulting Professionals.
FortuneDNA has been touted by Forbes Magazine as "The #1 Asset protection and Tax Strategy Firm in the Country" due to their amazing knowledge of tax shelters and incredible customer service. FortuneDNA's products and services are tailored made for each individual specifically with their current situations and future goals in mind.
FortuneDNA prides itself at making available the products and services that have been exclusive to the ultra- wealthy for the last 50 years; available and affordable to all.
~~~~~~~~~~~~~~~~~~~~~~~~~~~~~~~~~~~~~
Reggie Brooks, the #1 Vacant/Distressed/Abandoned Property Specialist In North America!
Reggie is also an international speaker, author and educator, dedicated to inspiring others to achieve personal success through real estate investment. Having risen above a life of poverty, he has achieved what many people consider to be impossible. He went from making $36,000 per year at the local telephone company, to making over $40,000 per month in his real estate business.
Starting out with very little money, Reggie began his investment career in 1986. After taking a few real estate investment courses, he began investing in rental properties in Los Angeles. He quickly replaced his telephone company income of $3,000 per month with over $4,200 per month from a few well-placed investments, becoming financially independent within his first year of investing.
Today, Reggie delivers his personal philosophies for success at major business venues and expositions throughout the United States. Reggie has also exploded as thee expert on "Vacant Property Specialist" in the United States.
Reggie attributes his success to faith and family, and to the invaluable mentors he has met along the way. Of all his many accomplishments, Reggie is most proud of his enthusiastic students, especially his children Keith and Arlett.
~~~~~~~~~~~~~~~~~~~~~~~~~~~~~~~~~~~~~
Linda Pliagas, CEO of REALTY411 – Owner of the Longest-Running Media Company Publishing Real Estate Resources for Investors around the World.
Realty411 was founded in 2007 by Linda Pliagas, who is the Publisher/CEO. Linda has personally invested in rental properties in five states — all by the age of 38.
Linda has purchased single family homes, multifamily units, vacation rentals, probates, REOs and short sales. Linda Pliagas has worked simultaneously in media and real estate. She began her media career at age 18 as a reporter for her high school newspaper.
She holds a bachelor's degree in print journalism from California State University, Long Beach. She was a recipient of the Bobit Magazine Scholarship for her accomplishment in publishing her first national magazine while still at CSULB. She also studied real estate, accounting and general studies at Santa Monica College. In addition to publishing two magazines and a local newspaper in Los Angeles, Linda has also freelanced for numerous national magazines, local newspapers and global websites. Thanks to her real estate investments, Linda was able to pay off her home in West Los Angeles by age of 39.
Other Business Ventures: Linda has been an active landlord in California consecutively since the age of 25. In addition to her family's ventures in real estate and media, they are also owners of HRS Clocks (Horological Restoration Services) the oldest timepiece repair, restoration and sales shop in Santa Barbara County. HRS serves a select client base of collectors, and their company repairs some of the most valuable antique timepieces in existence.
~~~~~~~~~~~~~~~~~~~~~~~~~~~~~~~~~~~~~~~~~~~~~~~~~~~~~~~~~~~~~~~~~~~
Save
Save
Save
Save
Save
Save
Save
Save
Save
Save
Save
Save
Save
Save