Join Us And Learn from Experienced National Investors -- FREE REI CONFERENCE!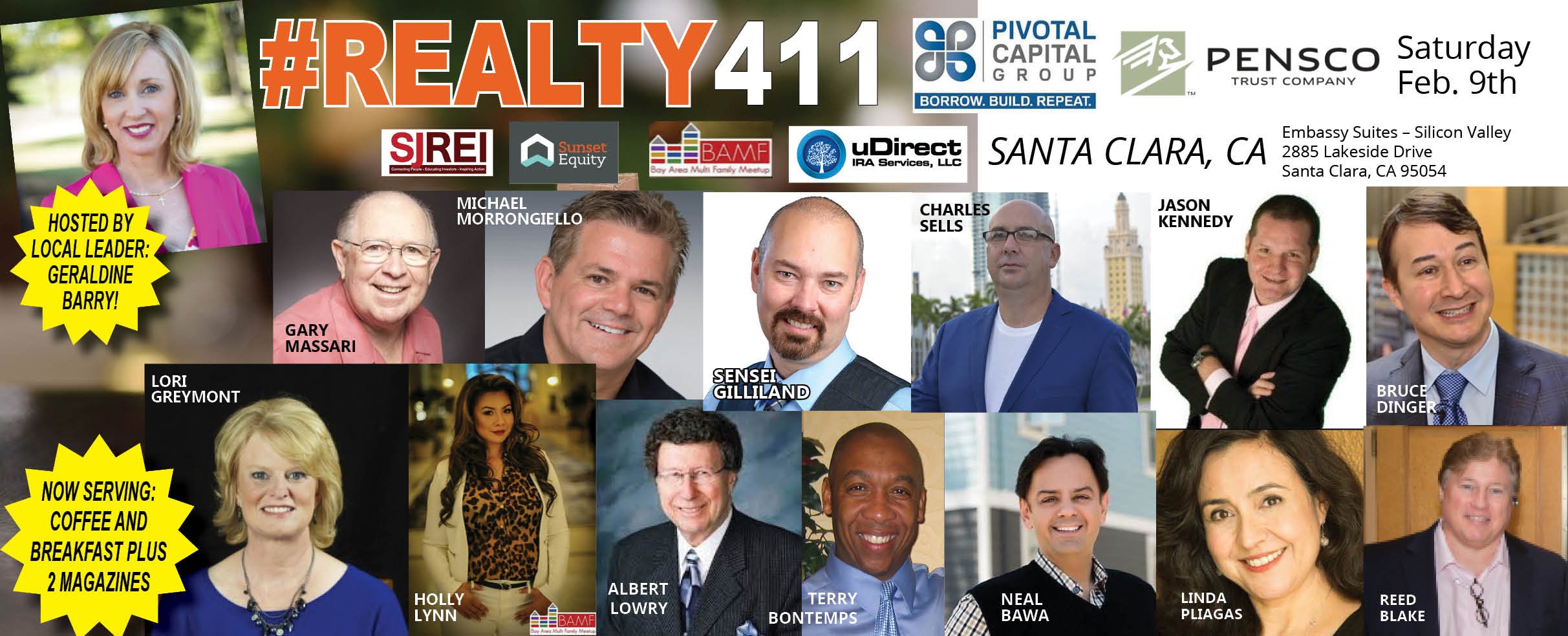 SILICON VALLEY'S INVESTOR EXPO & REI CONFERENCE!
Saturday, February 9, 2019
9:00 AM – 5:00 PM
Embassy Suites by Hilton – Silicon Valley
2885 Lakeside Drive
Santa Clara, CA 95054
NORTHERN AND SOUTHERN CALIFORNIA REI LEADERS UNITE FOR ONE SPECIAL DAY!
REALTY411, the longest-running real estate investor media and expo company owned by the same California accredited investor, is celebrating TWO brand new issues and a 12-year anniversary.
A new year and new political shift is once again upon us, and savvy investors want to forecast what's in store for them in 2019 and beyond. On SATURDAY, FEBRUARY 9TH, creative real estate leaders will unite in THE HEART OF SILICON VALLEY to discuss such trends, ideas and strategies. This insight and knowledge may help guests gain an edge for a favorable and prosperous new year.
Hosting this community and family-friendly FREE expo is REALTY411, (http://realty411expo.com) the original realty investor magazine.
Since 2007, California-owned REALTY411 has been positively impacting the REI industry by sharing important real estate knowledge through their online and print publications, national expos, podcasts, and webinars.
Additionally, this all day expo, which is being advertised in all the major media, as well as to national investors, is also attracting guests and company sponsors from around the country, including: Florida, Arizona, Texas, Illinois, Nevada, Georgia and more.
Expo guests will enjoy A VARIETY OF TOPICS so they can become well-rounded, extraordinary investors.
REALTY411 (http://realty411Magazine.com) is celebrating its brand new publication, as well as an anniversary of five years in producing their digital issue, REI WEALTH (http://reiwealthmag.com), a monthly interactive publication. As one of the most prolific publishers in the real estate investment industry, REALTY411 has dozens of events on schedule for 2019, as part of their national tour to celebrate another year of success in publishing, and in real estate as active investors.
To reserve your complimentary ticket to this wonderful event to celebrate REALTY411, please register below or call: 805.693.1497
Join Us And Learn from Experienced National Investors -- FREE REI CONFERENCE!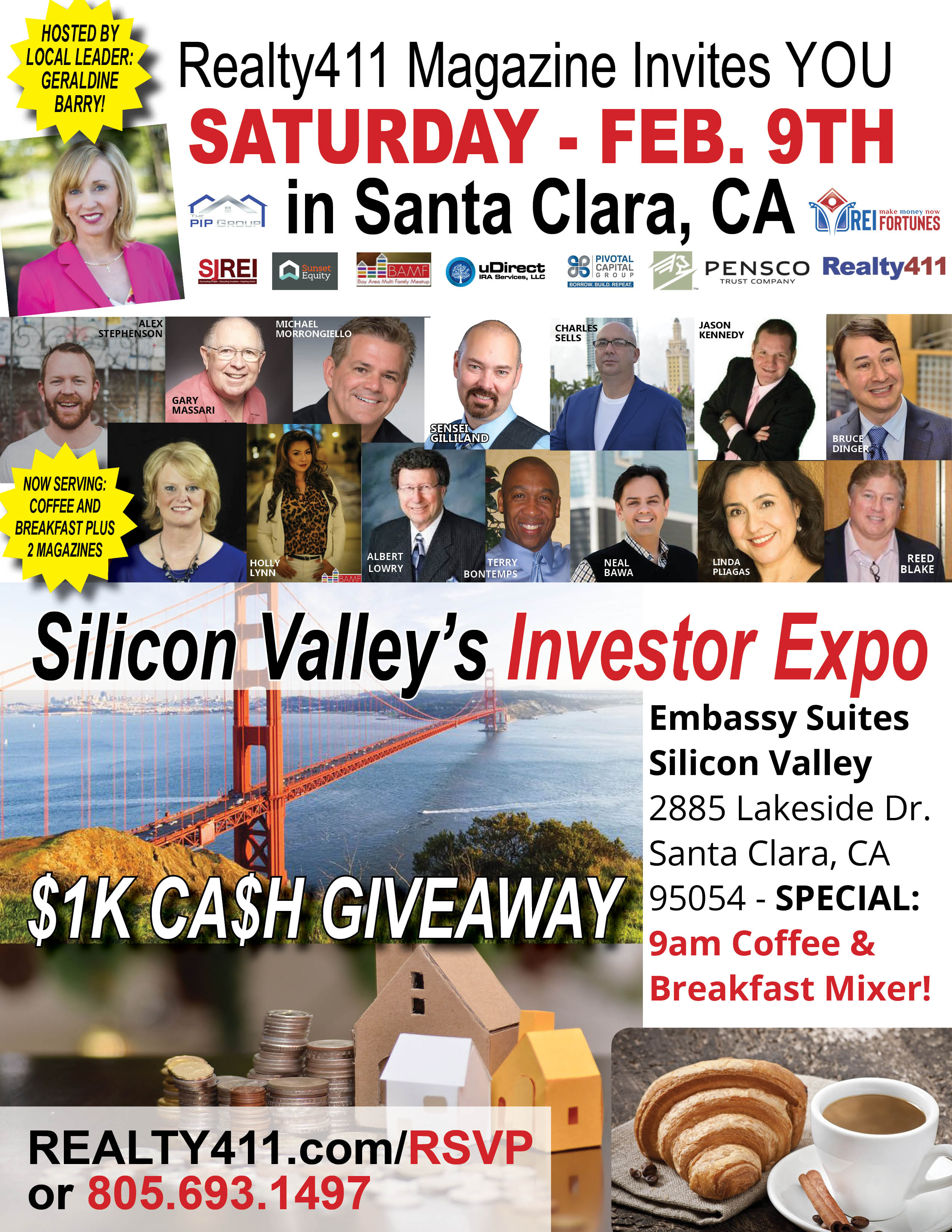 Some topics to be discussed include:
Maximum & Fool-Proof Asset Protection
Private Finance and Leverage
Tax Liens in Multiple States
Multi-Family and Commercial Syndication
Single-Family Rentals
Vacation Home Ownership
Real Estate Entrepreneurship
Multiple Streams of Income
Business Lines of Credit
Develop a Motivational Mindset and Wealth-Building Attitude
PLUS, Create Continual Cash-flow, & More
Complimentary Keepsake Expo Tote Bag

Network with Local & Out-State-Investors

Our Experts Have Been in the Industry for Decades!
Network with Active, Seasoned and Accredited Investors

Our Only Goal is To Help You Succeed

Based in California, Founded by Journalist/Investor
JOIN US IN THE HEART OF SILICON VALLEY!
Join Us And Learn from Experienced National Investors -- FREE REI CONFERENCE!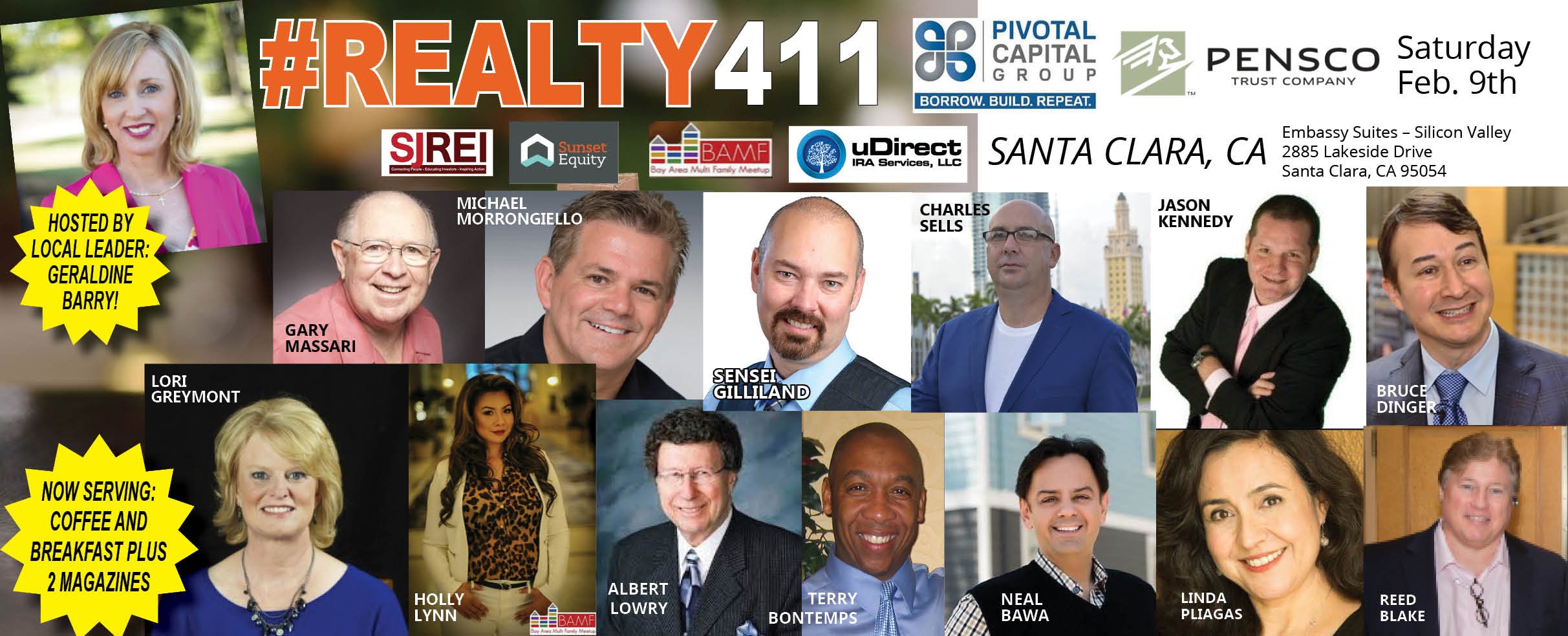 Sponsorship & speaking opportunities are available, let us exponentially grow your business! We are the company that has started opportunities for many companies to expand in the REI marketplace. We have hosted more investor events, in more cities and states, than any other privately-owned REI media company. We pride ourselves in procuring phenomenal results for sponsors while saving them money: 310.994.1962. For this reason, Realty411 has done been in business the longest than any other company in our niche.

CHECK BACK FOR FURTHER UPDATES AND ADDITIONAL SPEAKERS AND SPONSORS. FOR UP-TO-THE-MINUTE NEWS AND DETAILS, PLEASE JOIN OUR VIP PRIVATE REALTY411 EXPO FACEBOOK GROUP

Join Us And Learn from Experienced National Investors -- FREE REI CONFERENCE!