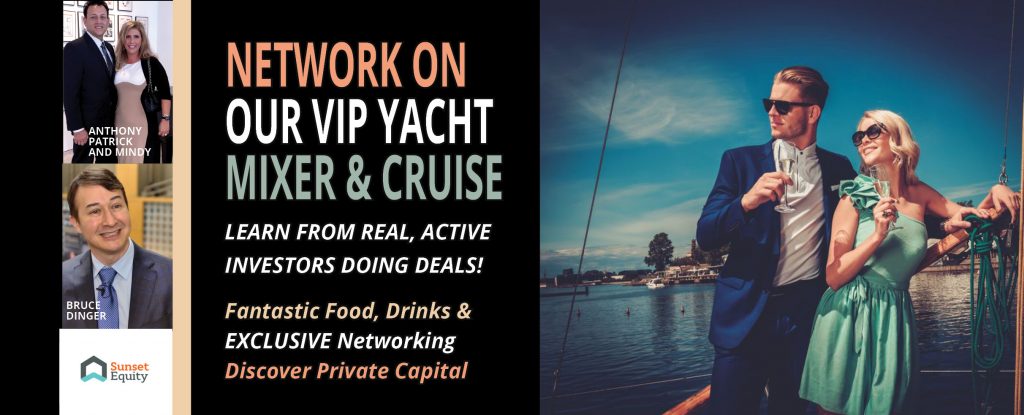 Are you ready for an amazing experience with other SOPHISTICATED investors who are ready to exponentially grow their wealth with real estate?
Attention serious investors, it's time to mix business with pleasure and network with top, active real estate professionals, both rehabbers, buy-and-hold investors, brokers, agents, and services providers.
Join us this Saturday, Sept. 21st for Realty411's VIP Yacht Cruise and mingle and learn with some of the industry's most captivating people, folks who have access to deals, capital and connections.
The event begins at 2:00 pm to 5 pm. The address is: Tiki Mermaid Charters | 13755 Fiji Way | #D-5 | Marina del Rey, CA 90292
In addition to amazing learning and networking, guests will also enjoy a wonderful buffet with amazing food, unlimited beverages and a cash bar. Please see the menu below.
These major real estate investment influencers can catapult you to the next level of success in business and life, so be sure to RSVP for this important event. So far, we have dozens of investors signed up and few seats remain.
CLICK HERE FOR OUR VIP TICKET!
Designed with the ultimate networking in mind, this three-hour educational yacht tour departing from Marina del Rey, Calif., will delight your senses and palette.
Included with the admission are savory, mouth-watering delights and a gift bag with our latest magazine, resources by top companies and VIP entry to our private investor group.
Guests will have a chance to learn directly from savvy and active investors, such as:
** Anthony Patrick, CEO of New Harvest Ventures. Anthony has been consistently rehabbing properties in Southern California for decades. Discover what it takes to get to this high-level deal making.
** Bruce E. Dinger, hedge-fund manager/real estate investor. Bruce is a high-level investors who has been responsible for a multi-million-dollar hedge fund. Additionally Bruce buys and rehabs real estate remotely all over the nation. Find out how he fixes homes from 3,000 miles away!
** Sunset Equity Group. Vincent Barker, Director of Broker Relations, will be onsite to discuss broker opportunities with one of fastest-growing private equity firms in the nation.
** Edward Weng, TFS Properties. Edward was born and raised in Los Angeles, CA as the only son to Taiwanese immigrant parents.  His introduction into real estate began from his family's multi-family acquisitions throughout the San Gabriel Valley in the early 90's & refining his management expertise alongside his father throughout the decades, which he credits as the catalyst to his career. He later attended the University of Southern California – Marshall School of Business & began learning the fundamentals of commercial real estate & syndications.   Over the course of the last 2 years in brokerage, he has been involved in more than 300+ single family real estate transactions, both in-state & out-of-state, as a CA licensed realtor.  
** Linda Pliagas, publisher of Realty411 magazine. Linda has been a real estate investor and publisher for the past 25 years. Beginning with her first publication in 1993, which was the same year she purchased her first seller-carry-back, probate deal purchased with private money in Culver City, Calif.
Thank you for our sponsors, Sunset Equity Group, New Harvest Ventures, Kennsei Trading, and TFS Properties.
TFS Properties is a team of real estate professionals that specializes in finding off-market investment properties for our clients. In hot markets such as Southern California, it is very hard – if not near impossible – to find properties that are at priced reasonably with high cash-flows & cap rates, TFS Properties helps clients find out-of-state investment properties.
For further information, please call our office @ 805.693.1497.
DON'T MISS THIS FANTASTIC OPPORTUNITY, CLICK HERE!
Don't miss this phenomenal networking opportunity brought to you by Realty411 magazine, plus the leading private money capital company in the nation, Sunset Equity Funding.
SCHEDULE, SATURDAY, SEPT. 21ST, 2019:
3 hour-cruise
***
MENU:
Unlimited soda-juice bar
Cash Bar On Board
***
Roasted red pepper hummus with pita chips
Gourmet cheese platter with nuts and dried fruit
Veggie lasagna topped
Spicy ponzu glazed buffalo wings
Teriyaki meatballs
***
Delicious cake available