For the sixth year in a row, Realty411 is hosting complimentary creative real estate expos in numerous states outside of California, their home market.
Realty411 produced nearly two dozen events around the nation in 2015 with a small staff, resulting in sponsorship rates that emphasize value and maximize visibility in person and online.
Realty411's national expo schedule for 2016 continued to expand to new cities, such as Miami, Houston and Chicago. In addition, the company will continue to visit important cities around the nation, including Dallas, San Diego, San Francisco, Las Vegas, Miami, San Antonio, Phoenix, Long Island, and other vital markets.
REALTY411'S CURRENT SCHEDULE INCLUDES:
* September 17th – LONG ISLAND, NY
LINK: https://realty411.ticketleap.com/long-island-real-estate-expo—creative-investors-unite-to-lear/
PROMO> #LONGISLANDREIAEXPO
* September 24th – CHICAGO, IL
LINK: https://realty411.ticketleap.com/chicago/
PROMO> #CHICAGOREALESTATEINVESTOR
* October 8th – SAN ANTONIO, TX
LINK: https://realty411.ticketleap.com/the-alamo-real-estate-charity-expo/
PROMO> #THEALAMOCHARITYEXPO
* October 15th – MARINA DEL REY, CA
LINK: https://realty411.ticketleap.com/marinadelreyexpo/
PROMO> #MARINADELREYEXPO
* October 22nd – LAS VEGAS, NV
LINK: https://realty411.ticketleap.com/las-vegas-real-estate-expo—join-us-for-networking-education-a/
PROMO> #LASVEGASREALESTATEEXPO
* November 5th – FT. LAUDERDALE, FL
LINK: https://realty411.ticketleap.com/lifes-a-beach—east-coast-real-estate-investors-expo-in-ft-lau/
PROMO> #LIFESABEACH
* November 6th – TAMPA, FL
LINK: https://realty411.ticketleap.com/realty411tampa/
PROMO> #REALTY411EXPOTAMPA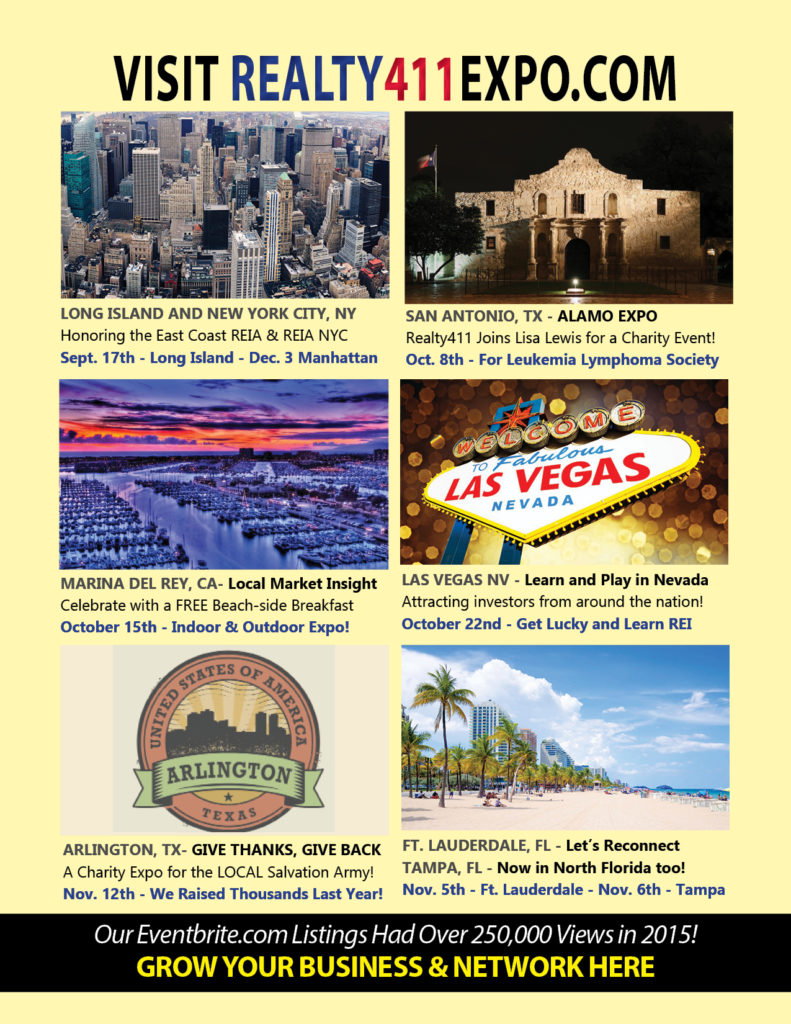 Additionally, Realty411 continues to expand their joint venture productions to include other organizations and associations around the country who share in Realty411's mission of providing complimentary real estate resources for all those who wish to expand their knowledge of America's best wealth-building strategy.
Realty411's expo listings on Eventbrite.com garnered over 250,000 unique viewers online.* Although well over 90 percent of readers are in the United States, online statistics on numerous digital publication platforms utilized by Realty411 confirm a global audience of readers. Although their events are complimentary, their conservatively-sized staff and creative marketing efforts enable Realty411 to provide sponsorship opportunities that emphasize value and maximize visibility in person and online.
For more information, please visit our NEW expo website: Realty411EXPO.com
Visit Realty411's profile on TicketLeap.com, their NEW ticketing system: https://realty411.ticketleap.com/
Discover Realty411's profile on Eventbrite.com to learn more: www.eventbrite.com/o/realty411-magazine-amp-marketing-1322876767
Visit our main Realty411 magazine to learn more about our educational mission: Realty411guide.com – http://realty411guide.com
We also have a NEW website for our Realty411 magazine at: http://realty411magazine.com
Learn more about our monthly real estate investment magazine for VIP investors and real estate professionals.
Visit REI Wealth Monthly http://reiwealthmag.com
Would you like to work with Realty411 to produce an expo in your city?
Do you want to host an event to support your favorite local charity? Do you want to skyrocket your local and national visibility and prominence? Do you want to explode your network and increase your club's membership instantly?
Want to produce an expo in your area, but lack resources to do so? We can help your real estate investor organization grow VERY QUICKLY.
*These statistics are from Eventbrite.com – This is the original screenshot from the San Francisco-based event ticketing company, which we utilize to independently track results.*
More Information about Realty411 * Based in Santa Barbara County, Calif., Realty411 publishes online and print magazines, e-newsletters and produces expos and mixers around the United States. Their mission to to educate and empower their network to invest in real estate. The media/marketing company is owned by a real estate investor and licensed California real estate sales agent. Realty411 currently reaches more personal real estate investors around the nation with their in-house expos and events than any other realty investment publication. Many expos are also charity events where awareness and donations are raised for numerous worthwhile organizations, which focus on assisting the homeless, victims of domestic violence and animal welfare. Other comparable events charge guests hundreds of dollars for tickets to events where they will learn the same type of life-changing information.
Save
Save
Save
Save
Save
Save
Save