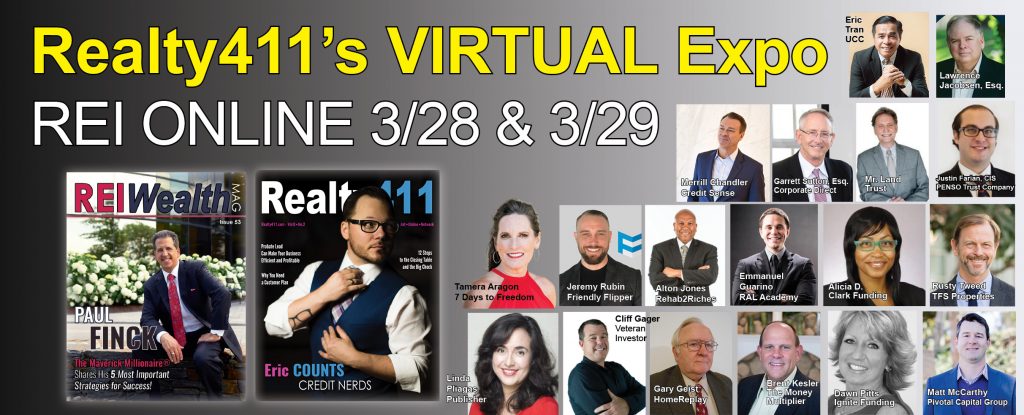 Attention Realty411 readers: This weekend, March 28th and 29th, it's time to connect with top-level educators who are willing to share their time, knowledge, and expertise at Realty411's Virtual Expo.
Don't miss the opportunity to take your investment know-how to a new level, as we dive deep to discuss the current coronavirus pandemic and it's affect on real estate portfolios, private money, and our national economy.
Don't worry, it's not a doom and gloom forecast — as investors, it's important to remain optimistic; we know fortunes can be made during times of crisis.
It's crucial for all us to be up-to-date with the latest news, as it's changing by the minute! It's also vital to learn from others who have weathered other economic storms and not only survived, but flourished.
This is an incredible opportunity to learn from the very best in the industry at this incredible event, visit today: Realty411VirtualExpo.com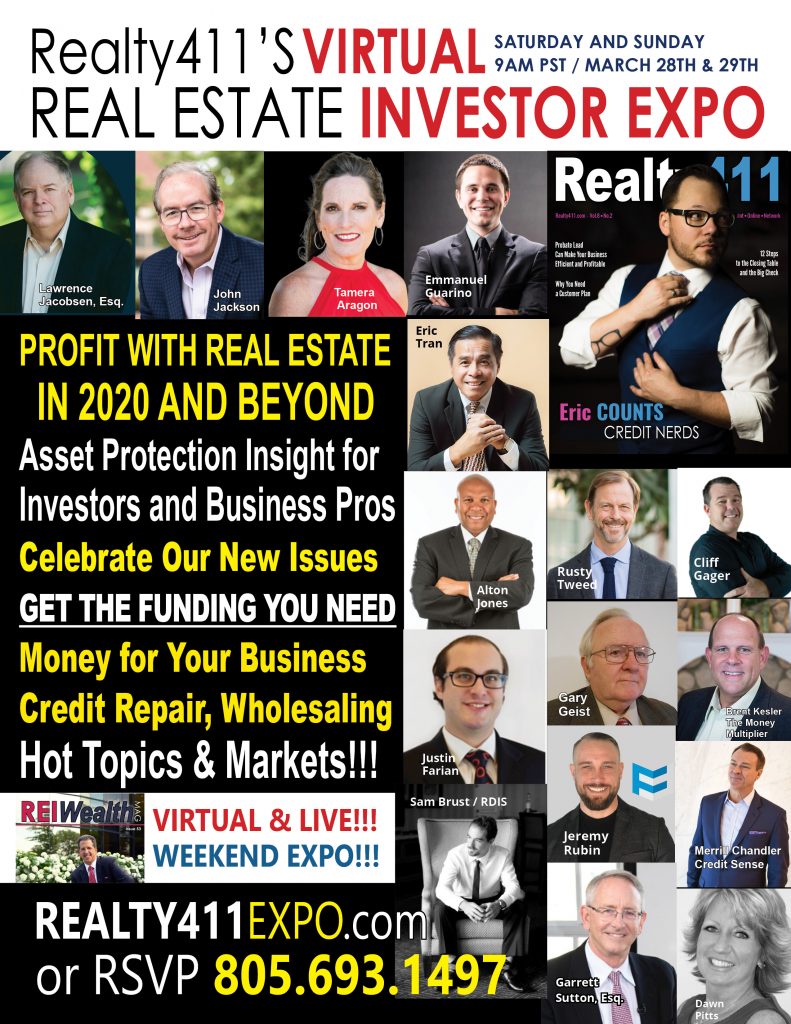 Our Incredible Schedule, Includes:
EXPO AGENDA:
SATURDAY, MARCH 28TH AND SUNDAY, MARCH 29TH
Join us starting at 9 am PST the weekend of March 28th and 29th, 2020.
Our jam-packed schedule of amazing top-notch speakers will share their knowledge of investing and how to mitigate today's economic landscape.
TUNE IN FOR A TRANSFORMATIONAL WEEKEND
SATURDAY, MARCH 28TH, SCHEDULE:
9:00 am PST – Surprise Host for Our Virtual Expo – GUESS WHO!?
9:15 am to 10:10 am PST – John Jackson – Leasing to Buy — Learn Virtual Lease Options with Texas' Lease-to-Own Expert
10:15 am to 11:00 am PST – Tamera Aragon – 7 Days to Freedom — 10 Keys to Winning Negotiations by A Veteran Investor
11: 00 am to 11:15 am – BREAK TIME
11:15 am to 11:30 — Ivy Baca – Universal Commercial Capital — Get the Funding You Need to Keep Transacting Deals
11:30 am to 12:30 PST – Emmanuel Guarino – RAL Academy — Learn to Ride the Silver Tsunami and Profit While Helping Others
12:30 to 1:15 pm – LUNCH TIME
1:15 pm to 2:15 pm PST – Brent Kesler – The Money Multiplier — Build Wealth Through the Debts and Expenses You Already Have
2: 15 pm to 2:30 pm – BREAK TIME
2:30 pm to 3:30 pm PST – Rusty Tweed – TFS Properties — Coronavirus Outbreak and it's Effects on Rental Property and 1031 Exchanges
3:30 pm to 4:30 PST – Cliff Gager and Lawrence Jacobson, Esq. — Find Out How to Buy More Properties and Protect Your Assets Too!
4: 30 pm to 4:35 pm – BREAK TIME
4:35 pm PST to 5:00 pm PST – Dawn Pitts, Ignite Funding — Learn to Leverage Correctly with Private Capital
SUNDAY, MARCH 29TH, SCHEDULE:
9:00 am PST – Surprise Host for Our Virtual Expo – GUESS WHO!?
9:15 am to 10:15 am  PST – Merrill Chandler – Credit Sense — Learn The Secret Leverage Millionaires Are Using Instead of Cutting-Back or Downsizing
10:15 am to 10:30 am – BREAK TIME
10:30 am to 11:30 am PST – Alton Jones – Rehabs 2 Riches — Discover How Alton Went from LAPD to Rehabbing Deals Full Time!
11:30 am to 12:00 PST – Garret Sutton – Corporate Direct — Maximum Asset Protection Strategies from and Industry Leader
12:00 to 1:00 pm – LUNCH TIME
1:00 pm to 2:00 pm PST – Gary Geist – Home Replay — Find Out About Cash-Flow Properties in the Mid West
2:00 pm to 2:30 pm PST – Justin Farian – Pensco Trust Company — Discover the Latest Information about Self Directing with Your IRA
2:30 pm to 2:45 pm – BREAK TIME
2:45 pm to 3:30 pm PST – Jeremy Rubin – The Friendly Flipper — Learn How Jeremy was Able to Ditch his Corporate Job to Become One of the Most Successful Rehabbers in California's Central Coast
3:30 pm to 4:00 pm PST – Christoph Malzl & Jonathon Metoyer – Land Voice — Get Ahead in this Shifting Market
4:00 pm to 4:30 pm PST – Closing Remarks