Please review this important sponsored event invitation.
---
Fannie Mae's Chief Economist, Dr. Doug Duncan, Gives Economic Forecast
Join us for an exclusive event featuring Dr. Douglas G. Duncan, Senior Vice President and Chief Economist at Fannie Mae. Recognized as one of the most accurate economic forecasters, Dr. Doug Duncan has a proven track record of accurately predicting major economic events, including the 2008 crash.
What is he predicting for the years ahead? Come join us and find out.
Dr. Duncan has been named one of Bloomberg/BusinessWeek's 50 Most Powerful People in Real Estate. He will provide his expert economic forecast, drawing on his extensive experience analyzing demographics, economic activity, and external factors that impact the housing and mortgage markets.
As part of his role at Fannie Mae, Dr. Duncan oversees strategic research that examines the potential impact of external factors on the housing industry.
Schedule:
6:00-7:00 – Networking
7:00-7:45 – Presentation
7:45-8:30 – Q&A
Light snacks and non-alcoholic beverages will be provided. Tickets sold out last time, be sure to secure your spot early. Don't miss this opportunity to network with like-minded professionals.*
When:
Thursday, June 8 · 6 – 8:30pm PDT
Location:
De Anza College – Forum 1
21250 Stevens Creek Boulevard
Cupertino, CA 95014
Special Discount:
Reserve your discounted tickets for only $10 with code:
Fannie1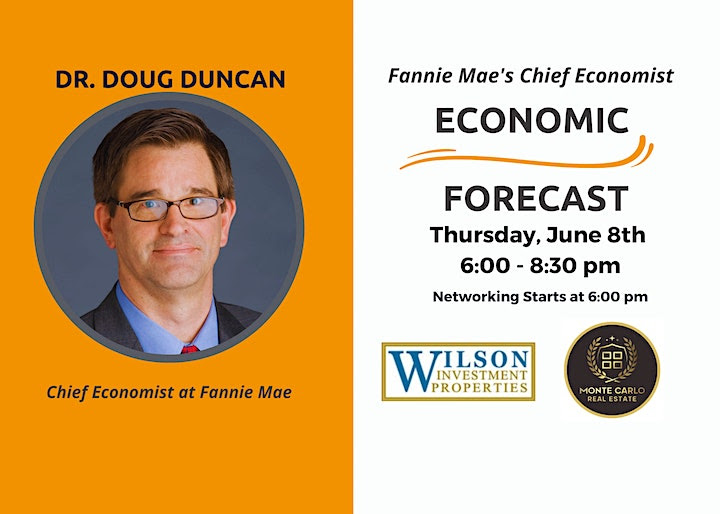 Fannie Mae is the largest real estate lender in the United States, with over $4 Trillion in assets. As Chief Economist, Dr. Duncan has one of the largest teams of real estate economists and analysts in the country and his forecasts have been incredibly accurate.

* All net proceeds will be donated to non-profit organizations.