Learn the Latest Niches in Real Estate + Connect with Influential Investors from across the nation right here in Southern California.
We have exciting news regarding our In-Person Event in West Los Angeles, California. Our special one-day conference will host incredible educators from around the country, who are ready to share their valuable insight. Be sure to join us IN PERSON. We will have wonderful resources, plus guests will have access to private capital, plus business and commercial funding as well.
Now is the time to grow your real estate business to new levels.
While General Admission for this conference is complimentary, please consider purchasing a VIP ticket to join our Investor Network, which includes a SPECIAL INVESTOR NETWORKING BREAKFAST to start the day off right, plus an investor bag with our latest publications.
Celebrate Real Estate Investing with Realty411 – Join Us for an In-Person Event in Los Angeles.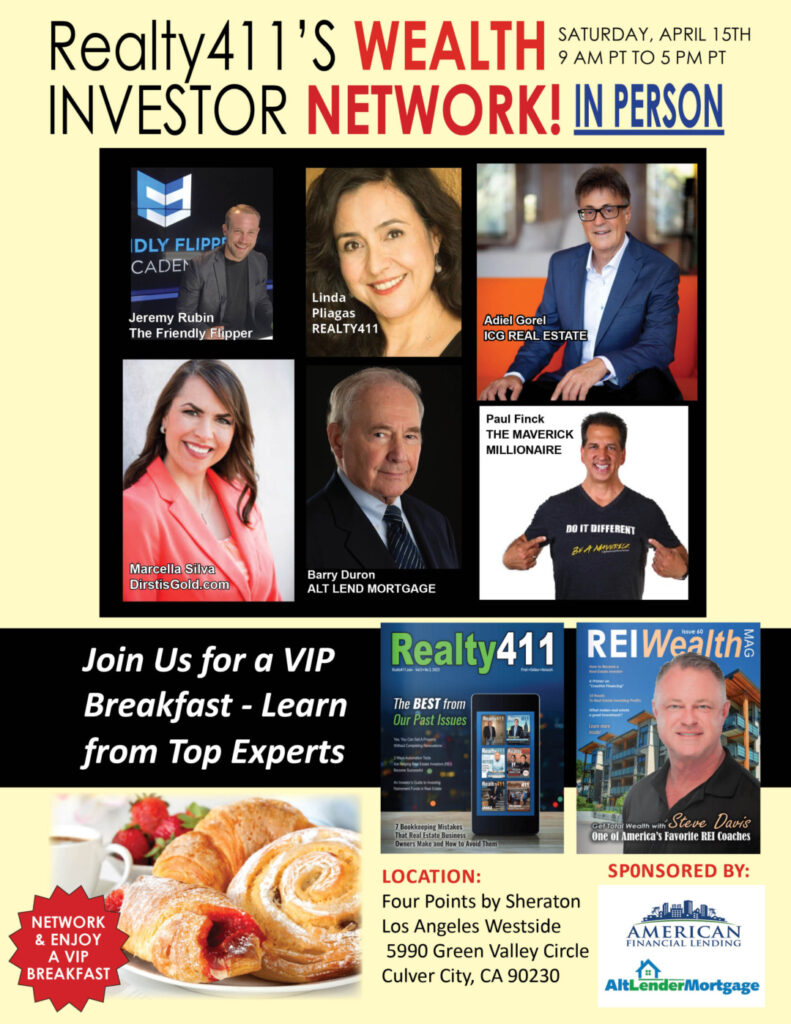 Now is the moment to grasp this opportunity — the chance to network with sophisticated investors from California and around the country. It's time to our latest magazines with this SPECIAL Conference.
Be sure to pencil this date now and join us in-person to gain specialized real estate investing insight and knowledge. The information shared on this day could catapult your portfolio to new levels. Discover the latest technology available to better manage your properties.
This one-day conference has something for everyone regardless of their experience level in real estate. Join this memorable day and receive knowledge for a lifetime.
(Optional upgrade: We may run out of magazines as we have before at other events, so be sure to reserve a VIP ticket so we can reserve a special gift bag for you. Plus, join us for our networking breakfast at 9 AM PT and have VIP seating as well.)
Are you ready to Grow Your Real Estate Business, Portfolio and Network? Come join us for a special day.
RSVP TO OUR EVENT IN WEST LOS ANGELES:
https://www.eventbrite.com/e/530733146127
For any questions, please call or text us directly: 310.994.1962. Visit Realty411expo.com or REIWealthmag.com for news, updates, and informative articles.