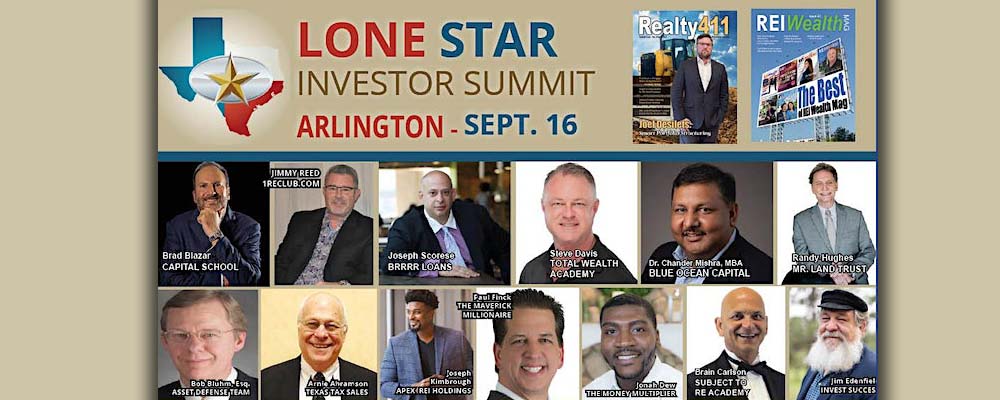 By Lori Peebles
Are you ready to grow your real estate portfolio to brand new levels of abundance? If so, be sure to join us for Realty411's NEW Lone Star Wealth Summit.
We are hosting a Real Estate Wealth Summit & Special In-Field Bus Training in Arlington, Texas, on September 16th & 17th.
Learn more and register at:
https://www.eventbrite.com/e/realty411s-lone-star-investor-summit-build-wealth-with-real-estate-tickets-530755121857?aff=oddtdtcreator

Get ready for a full day of education and motivation. Be sure to download our Summit Schedule to learn about your favorite speaker.
Download our Summit Schedule, click here or below:
https://joom.ag/PcNd

This Extra-Special Summit will cover a wide range of real-estate investing topics, as well as focus on individual mindset, finance and leverage, maintaining motivation and joint collaborations with our "Inner Circle" of readers, subscribers and educators.
Network with high-level investors and learn from top REI educators and accredited investors. Our speakers have collectively raised billions in private capital for their real-estate investment acquisitions.
This is your opportunity to learn directly from the best in REI in the Lone Star state and beyond, don't miss it.
Learn more and register at:
https://www.eventbrite.com/e/realty411s-lone-star-investor-summit-build-wealth-with-real-estate-tickets-530755121857?aff=oddtdtcreator