By Mabel Travis, Staff Reporter
Discover insight and details on Realty411's upcoming INTERACTIVE Industry & Investor Virtual Expo the weekend of March 20th and 21st.
Beginning at 8:30 AM PT, Realty411's unique and dynamic online event will provide real estate investors, brokers/agents, lenders, service professionals, entrepreneurs and individual wealth-builders with a new, tech-driven way of connecting within Realty411's "Virtual World" in real time.
Watch Our Video, then RSVP HERE.
This online weekend virtual conference is spotlighting eZ-Xpo, a new platform developed in Silicon Valley, California. This new portal was created to provide maximum networking and futuristic e-learning.
Expo guests will begin each day by entering into Realty411's "Virtual Exhibit Hall" where experts are waiting to engage. In this online room (see video above or photographs below) expo guests can interact live via chat, plus video stream with representatives from dozens of companies.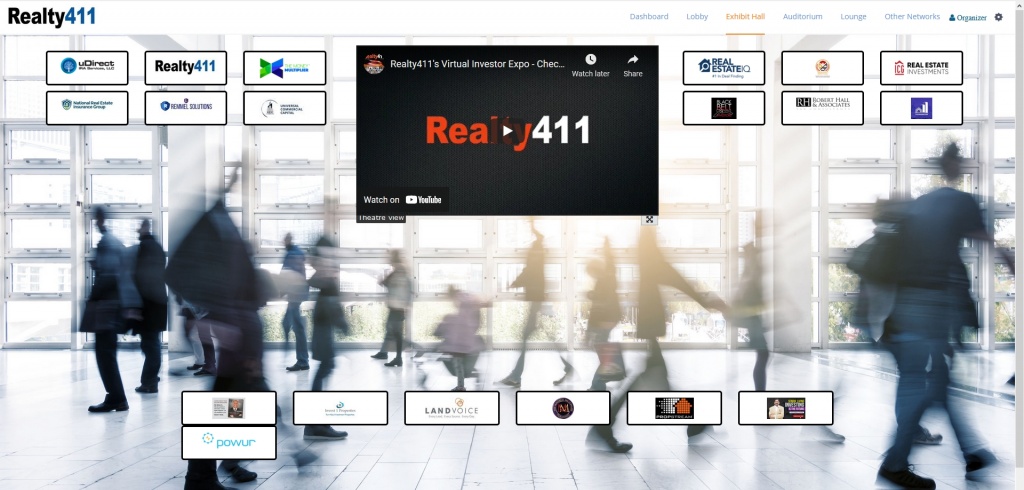 Realty411's Virtual Expo Network will include the following game-changing features:
Virtual Lobby Session Tracks
Forum for ongoing discussion before, during and after
Chat (Group, Private, Video and AI-Chatbot)
Multiple Webinars to Enjoy, Plus LIVE Streaming by Session Tracks
Social Live – Facebook Live, YouTube Live, Periscope Live, etc.
Marketing Analytics for the Best Qualified Leads
Private Expo Network Exchange to Connect Multiple Virtual Expos for Maximum Networking
Be sure to explore this amazing new platform and technology today, please go to: https://ezxpo.biz/realty411expo
Realty411's upcoming INTERACTIVE Expo, the weekend of March 20th and 21st, will elevate REI events to a whole new level.
Typically, an event of this caliber would cost hundreds of dollars for admission; however, thanks to the generous support of our sponsors, subscribers, and monthly members, this revolutionary virtual event is complimentary for everyone to enjoy.
Hundreds of investors have registered already and this new platform can accommodate thousands of guests, unlike online events hosted in the past.
It's time to discover networking in a whole new way. To RSVP for Realty411's INTERACTIVE weekend expo, CLICK HERE
Or, visit directly here:
https://ezxpo.biz/realty411expo/attendee_register
The schedule for our Interactive Expo is available: CLICK HERE
Additional details about Realty411's INTERACTIVE Investor & Industry Expo will be available via email to registered attendees. Be sure to register today to receive the latest details and insight on this dynamic event.