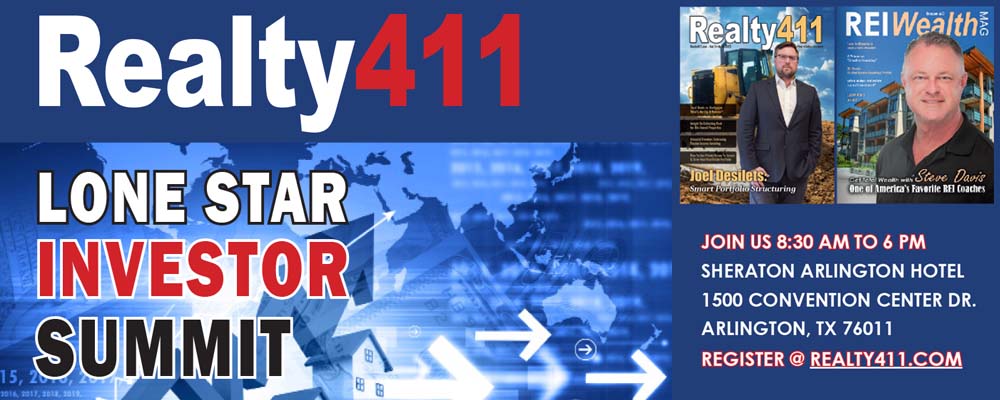 Dear Summit Guest,
We are excited you can share the day with us this Saturday, Sept. 16th, for the Lone Star Investor Wealth Summit.
Be sure to arrive early to get the best seating — a few VIP tickets are also still available for purchase to upgrade your seating, see link below.
ALSO: We added a few complimentary tickets for you to bring a guest!
But hurry, because only a few remain, thank you. Also, parking is FREE so don't worry about that either.
This is the event you've been waiting for! Get ready to expand your portfolio and connect with active investors from around the nation.
Whether you're a seasoned investor or just starting out, this summit is designed to provide you with the knowledge, strategies, and networking opportunities you need to succeed in the real estate market.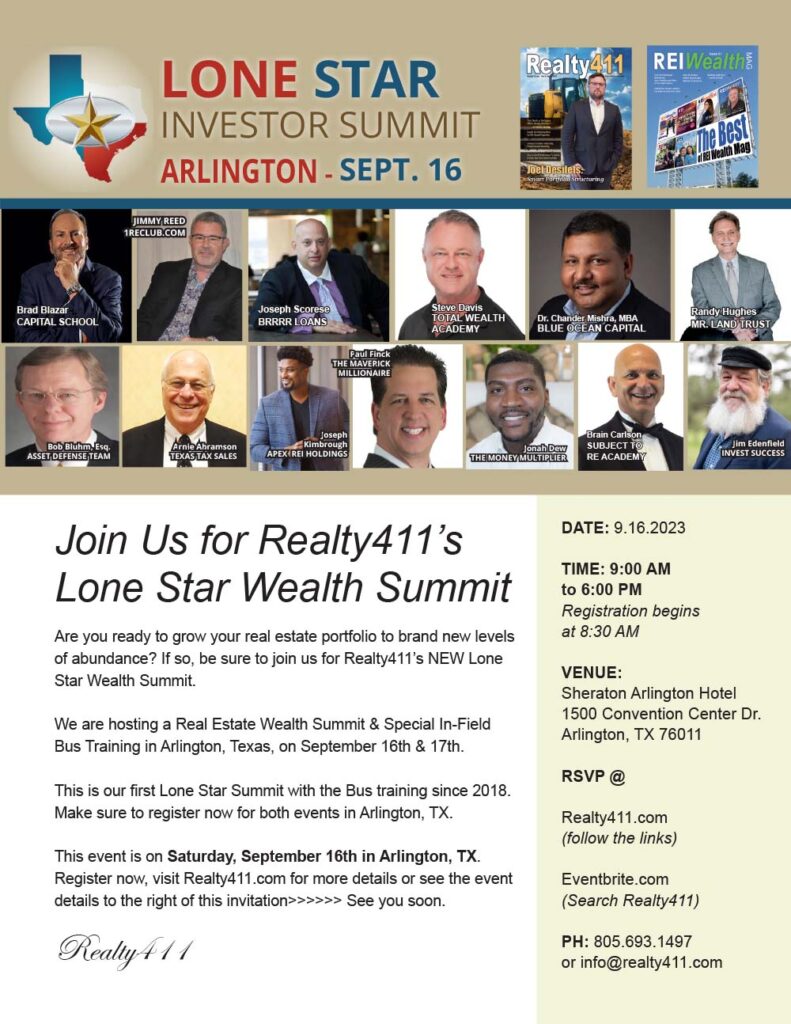 Don't miss out on this incredible opportunity to learn from industry experts, gain insights into the latest trends, and discover the secrets to building wealth through real estate investing. Plus, there will be plenty of time to mingle with like-minded individuals and form valuable connections that can take your investments to new heights.
NEED MORE TICKETS? Click the link below to reserve your seat today.
LEARN MORE OR RESERVE MORE TICKETS NOW:
https://www.eventbrite.com/e/530755121857?aff=oddtdtcreator
Enjoy a day of learning and networking. Our educators include:
* Chander Mishra MD MBA CPE FASE FASA FAACD – Blue Ocean Capital
* Bob Bluhm, Esq — Asset Protection Attorney & Public Speaker
* Brad Blazar – Founder of Capital School – Raised Over $2B in Private Capital
* Joseph Kimbrough- Apex Real Estate Investments
* Brian Carlson – Subject-To Real Estate Academy
* Joseph V. Scorese – BRRR Loans
* Steve Davis – Total Wealth Academy
* Jimmy Reed – 1REclub.com
* Jonah Dew – The Money Multiplier
* Jim Edenfield – Invest Success
* Tim Emery – Great Mile High Investor Summit
* Arnie Abramson — Texas Tax Sales
* Joel M. Desilets – Damascus Partners, LLC
* Seth Desilets – Damascus Partners, LLC
* Paul Finck, The Maverick Millionaire ®
* AND MANY MORE!
LEARN MORE OR RESERVE MORE TICKETS NOW:
https://www.eventbrite.com/e/530755121857?aff=oddtdtcreator
BE SURE TO DOWNLOAD THE EVENT SCHEDULE: https://joom.ag/PcNd
Best regards,
Linda